Maidenhead Static Model Club
News Archive 2015

DECEMBER 2015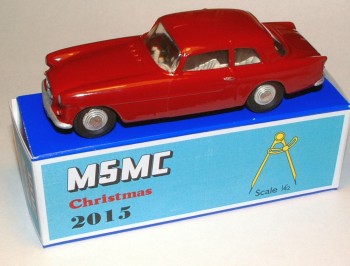 In December we had our Christmas Social,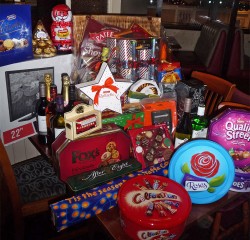 and as in previous years this was held at the Toby Carvery in Old Windsor. The highlights of the evening were the prize draw with its many prizes – and at the conclusion of the evening the distribution of the annual Christmas model. This year the model was a Bristol 406 (click on the picture for more details).
---
NOVEMBER 2015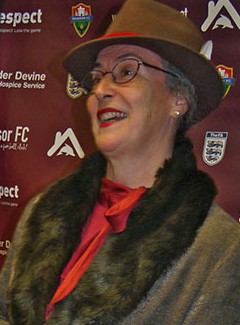 In November we once again welcomed Deborah from Milestones Museum in Basingstoke. This time she entertained us with 'Home Front Happy Hour', a trip back to wartime austerity, make-do-and-mend and rationing – not to mention dried egg and carbolic soap. Come the next war we should now be better placed to cope with the shortages, and to improvise and recycle our clothing. You will have to imagine the details of the hands-on underwear experience! We finished with a sing-song featuring wartime songs which, perhaps surprisingly, was enthusiastically enjoyed to such an extent that some members continued singing to complete the song-sheets.
The competition was 'UK Wartime Models & Toys', and given that few such items were commercially produced it seems many members were at a loss to find suitable items. The winning entry was a collection of Timpo model aircraft from John Garside. These were made from a composition material known as Timpolin, comprising pumice powder and glue. In second place was a display of Tremo waterline ship models from Brian Gatward. Third was a tinplate B29 USAF bomber belonging to Alan Howard, with a hand-made wooden tank (possibly intended as a cigarette box) from Bob Westerbeke in fourth place.
Click on a thumbnail to enlarge

---
OCTOBER 2015
Click on a thumbnail to enlarge

The October clubnight gave members a chance to show off some of their interests, whether static model related or not. Neil Baldry showed us his collection of the Codeg 'sports car' which he has deduced is based on a Citroen Traction Avant 11B with bodywork by French coachbuilder Robert de Clabot. Codeg was the brand name of London wholesalers and importers Cowan de Groot Ltd. John Harrison had an international collection of car number plate recognition games from the UK, the USA and Germany. There was also an impressive display of stationary Stirling engines, and Robert Newson showed a selection of tinplate models by IXL, a manufacturer about which little information seems to exist. The four IXL cars were a Vauxhall Velox, a Mk7 Jaguar, and Sunbeam Talbots in saloon and drophead versions. Adrian Levano had a display related to Cologne, a city which he knows very well, and which yields quite a good number of models. The 4711 brand of Eau de Cologne is known worldwide, but the many brands of Kölsch beer are more of a local delicacy. Cologne is also known as the base for the German Ford works, and the Stollwerck chocolate brand which has a Chocolate Museum in the city – a popular tourist attraction on the banks of the Rhine. The Prämeta model company was also from Cologne, their clockwork cars being marked 'Made in Germany, British Zone' on the base. The famous cathedral features on many of the tourist souvenirs, even on the T-shirt of the bear who was borrowed for the evening!

The competition was 'Little and Large' – two models of the same vehicle in different scales, won by a pair of Midland Red Motorway Coaches, Corgi and Guiterman, belonging to Derek Boxall. Second were a pair of 1935 Bluebirds from Geoff Holden – a tinplate clockwork contemporary model, possibly by Betal, and a 1963 plastic cereal packet toy from Kellogg's. Third were the Post Office Telephones vans entered by Neil Baldry, by Dinky and Mettoy. A pair of Jaguars XJs from Michael Driver were in fourth place.

Click on a thumbnail to enlarge

---
SEPTEMBER 2015
September clubnight was fish and chips night, and John Garside entertained us with a quiz designed to show up our general ignorance, although there was inventiveness too, with some alternative answers.

The competition was Lithographed Tinplate Models and first prize went to Michael Driver for an art deco style Marx 'Universal Bus Terminal'. Second place went to Clive Gehle's Bing train, with Geoff Holden's 1929 Silver Bullet by Günthermann third. Fourth place went to Ian Cook's Betal Q Type bus.

A selection of the other tinplate entries are shown in the second row of photos.

Click on a thumbnail to enlarge


---
AUGUST 2015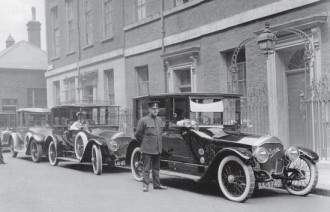 At the August clubnight, Alan Vessey give an interesting and well-illustrated talk on the Napier company, from its foundation in the early 19th century through to being absorbed into Rolls-Royce in the 1960s. Although less well-known than Rolls-Royce, Napier surely deserves a more prominent place in the consciousness of transport connoisseurs because of their engineering achievements in motor sport and land speed record breaking, plus their success in the aero engine field.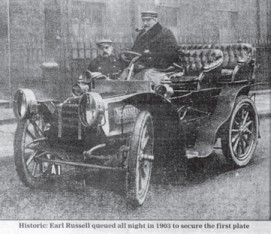 The photos show a line-up of Napier ministerial cars outside 10 Downing Street and a Napier which received the very first registration plate, A1, in 1903. Supermarine planes with Napier engines were twice victorious in the Schneider Trophy, and after the war their engines saw service with the navies of many nations – and in the Deltic class of locomotives which were named after the Napier engines which powered them.
In the competition on the theme of pre-war models, first prize was awarded to Hilary Gatward for a 1937 Wells-Brimtoy Coronation Coach. Second was a collection of Dinky trains from Clive Gehle, and third prize went to Robert Newson's pair of horse-drawn vehicles by Charbens – a baker's van and a milk float. Fourth was Geoff Holden's Johillco Bluebird, as driven by Malcolm Campbell, which had a Napier Lion engine. Other entries in the competition which caught our eye were the Tootsietoy 'Aerial Defense' set, a Ranlite Austin saloon, and an American Barr Rubber Ford truck.
Click on a thumbnail to enlarge.


---
JULY 2015
At the July clubnight, Peter Parry gave a presentation about Remap, a charity which concentrates on providing what are often one-off solutions to problems faced by people with disabilities, or by anyone having problems with the day-to-day tasks most of us take for granted. We heard of several of the ingenious inventions, inspired by the engineering and practical backgrounds of the 1,000 or so volunteers. These range in complexity from the simple expedient of gluing two clothes pegs together for someone with one arm, to applications using aircraft hydraulic components. Remap spends a very small proportion of its funds on administration (unlike some of the major charities) and has a network of 90 local groups. They are always looking for supplies of surplus engineering materials – but also use a 3D printer to produce components which would otherwise be outsourced for manufacture at a far higher cost, and we saw the printer in action building up layers to create a plastic part. The recipients of the charity's efforts experience a real difference in their lives, and the volunteers (many of whom are retired engineers) benefit from the process of problem-solving, as it keeps their grey cells active!

The competition entitled 'plastic model vehicles' produced a colourful display and the winners were as follows. First prize went to Roy Ellison for the Austin 1800 'Land Crab', second to Hilary Gatward for a Mettoy tank transporter with its load, third to George Hatt for a Rickshaw complete with chinaman, and fourth to Ian Cook for a Nacoral Bullnose Morris which was found in a skip!

A couple of additional entries are shown in the photos. Fifty years of the Ford Transit were celebrated with a trio of models. You may not know that the Transit name had been used by Ford Germany since 1953, long before the first-generation Transit appeared in the UK. The 'Ca-Ju Sportmodell' was developed shortly after the war by Max Carl and his son in East Germany, who were previously manufacturers of mechanical toy animals. They abandoned the benefits of the socialist state for the decadent west in 1952/3 so this item probably dates from before then as the name, which seems to be an abbreviation of Carl and Son, was not used by the nationalised company.
Click on a thumbnail to enlarge.

---
JUNE 2015
Although the trading tables evening in June was announced at fairly short notice, there was a good turnout, a good number of interesting items were available, and quite a few 'deals' were done!

The competition was on the theme of wooden models of road vehicles – maybe not something we think of as a major material for items in our collections, but a varied selection appeared on the competition table. Although wood is perhaps not so well-suited to mass production as diecasting or injection moulding, it was historically a major component in toy manufacture, and in certain areas remains so to this day.

First prize went to Bob Pitkin for a display of 'very fragile' hand-made models which were rescued from Dave Robinson's workshop. Second was a large Bluebird from Geoff Holden, with third prize going to Robert Newson for a selection of 1920s-1930s German wooden toys from the Erzgebirge region. The two-seater car is based on the Hanomag Kommissbrot. In fourth place was a nicely detailed coach from George Hatt. An additional 'highly commended' mention went to Adrian Levano for another German pre-war item, this from Schowanek.

Click on a thumbnail to enlarge.

---
MAY 2015
At this month's Scalextric night, the knockout competition gave us all a chance to show our racing skills – or lack of them! Some discussion was to be heard about the relative merits of the two supposedly equal cars, but in the end the winner was Bob Collins who took away a bottle of fizz. Fortunately he did not share it with the crowd in Formula One fashion!

Also set up were a Marx speedway track and a 1968 Matchbox Superfast track. In a fairly non-scientific study, it was decided that the very first Matchbox Superfast cars with narrow wheels are a match for most of the competition, although Corgi Rockets also performed well.

In the 'Competition Cars' competition, first place went to Michael Driver for a display of boxed Dinky sports cars. Second went to Gary Maslin for a pair of boxed Scamold racing cars (a Maserati and an ERA) complete with original Autocar advertising slips. Third, appropriately for the main event (even if not for the name of the club), was George Bennett's pair of Scalextric Ford Escorts, Mk.1 and Mk.2, in Eddie Stobart livery. Fourth was a Sloter Lola belonging to Allan Feldman.

Click on a thumbnail to enlarge.

---
APRIL 2015
At the well-attended April clubnight we were treated to a very interesting evening in the company of Mervyn Annetts. He started by giving us a run-down of the history of coaching from the horse-drawn days, through the impact of railways, to the modern era.

Mervyn also told us his own story, including his apprenticeship at Thornycroft which led to his interest in Thornycroft Antars, of which he has owned more than one. However, it was his experience in the coach business which was the main focus. Having worked for Porters, he went on to operate his own Bedford OB, HOD 75, which he still owns, and which has appeared in numerous films and TV shows, as well as serving as the inspiration for three models, two by Corgi and the 1:24 Sunstar. His company, Mervyn's Coaches, expanded to include modern vehicles – the fleet starting mainly with more modern Bedfords, then later changing to Volvos. The OB, which has now been in the fleet for 35 years, still earns its living on special charters but has more recently been joined in that role by a 1937 11-seat Bedford WS. There is also an AEC Regent, currently a restoration project, which is set to join the heritage fleet at some point.

Mervyn brought a selection of his own models to display as well as some other coach-related items.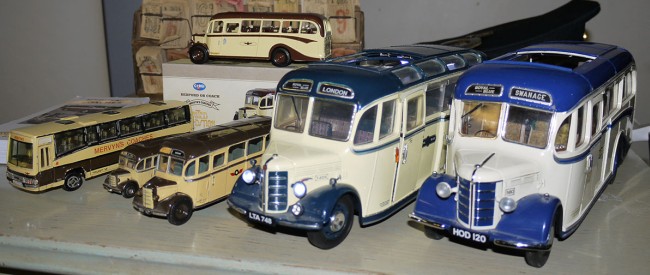 The competition (which Mervyn judged) was on the theme of coaches and attracted a good entry. First prize went to Gordon Kingsbury for 'Coaches Through the Ages' including a Rio (actually 1915, not 1930s!), an EFE Harrington Grenadier in Wimpey livery, and a Joal model of a Wallace Arnold coach. Second prize went to an unusual Safir 1:43 model of a 1910 Gregoire which looked as if it consists of three old horse-drawn coach bodies joined together. This belongs to Bob Westerbeke.

Third was Gary Maslin's boxed Mettoy Coach, with fourth place going to Adrian Levano for a pair of Swiss Post Buses; another incarnation of the Joal coach along with a Dinky VAL. The poster on which the PTT buses were displayed features another 6-wheel coach, but with four at the back.


Click on a thumbnail to enlarge.

---
MARCH 2015

March 16th was the Annual General meeting of the MSMC. This was also the night for the annual presentation of the club trophies, as follows:

The Harry Gunner Trophy, awarded to the winner of the annual 'chop' competition – this was retained by Paul Rowley, and details of his winning entry were reported in February.
The John Parker Trophy, awarded for the most points collected in the monthly clubnight display competitions, went to Robert Newson.
The Participation Award (for the most frequent entries in the clubnight competitions) will be re-named the 'Dave Robinson Trophy', in memory of Dave who died in September 2014. This year it went to Bob Collins.
The Tony Gleave Trophy, awarded for exceptional club effort over the past year, was awarded posthumously to Dave Robinson, reflecting the generosity of Pam Woodruff in donating models and books from Dave's collection.
The Anthony Armstrong Trophy, awarded for promoting collecting internationally – once again this was not awarded.
---
FEBRUARY 2015
At the February clubnight Jim Lindsay gave us a very interesting appraisal of the ups and downs of Tootsietoy, with reference to other American manufacturers. He talked about the pros and cons of toy manufacturers having relationships with real vehicle makers and the ways in which copyright restrictions were sometimes avoided. In terms of marketing, the more accurate models would often appeal to the parents, or could be used by salesmen to promote their cars through the children – on the other hand, generic models did not go out of date every year (unlike their real counterparts). From some very innovative and accurate models in the early 1930s, he showed examples of the decline in accuracy and cost-cutting in later years. However, even the Graham series of models, made to tie in with the manufacturer, included some flights of fancy! The common chassis allowed for commercial variants that never existed in real life.

As well as a competition on the Tootsietoy theme, we also had the 'Kit, Chop and Restoration' competition. The winner among the Tootsietoys was a pair of Ford Model A saloons with an original box from Robert Newson, followed in second place by a group of buses from Michael Driver. Third was a blue and cream Mercury saloon from Brian Gatward, and in fourth place a tiny Zephyr Railcar from Clive Gehle. The 'Chop' winner was Paul Rowley with a shortened Dinky coach, the 'Restoration' prize went to Ian Cook for a Jaguar Police car, and the 'Kit' winner was Derek Boxall's pair of military vehicles.

Click on a thumbnail to enlarge.

---
JANUARY 2015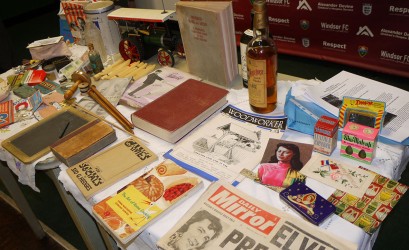 In January we heard a very interesting account of
Milestones Museum
– 'Hampshire's living history museum'.
Built to house a collection of artefacts from the local area (including vehicles from the Thornycroft collection) the museum presents a re-creation of typical street scenes to take you back in time.
We heard about the long process from the decision to build until completion, the 85,000 tonnes of chalk that were dug out (yielding a collection of fossils for the museum!) and the construction process that eventually allowed the museum to open in November 2000.
To add to the realism 'costumed interpreters' help to deliver the message about the differences in the way we live now compared to the past, and we heard many of the amusing anecdotes arising from exchanges with the public. Quite a few of these were with children – a major focus of the museum's work is to provide schools with a way for their pupils to interact with history. A special relevance is provided by the museum's collection of locally produced items, and the museum is a means for the local authority to fulfil its legal requirement to conserve local artefacts.
One interesting aspect of the Thornycroft company was an enlightened approach to women-friendly employment. It was also the first industrial company in Basingstoke to provide hot meals in its canteen.
Some of the smaller items from the museum's collection were on display, covering the period from 1820 to 1977.
The competition was 'Green Toys', and the results included a 'highly commended' in addition to the usual four winning entries. First was a Matchbox tanker belonging to Ian Cook. Second was a Tri-ang Loch Ness monster belonging to Hilary Gatward. Third was a Mettoy limousine entered by Gary Maslin, with Brian Gatward's Wells Brimtoy buses in fourth place. Neil Baldry's Flintmobile gained the 'highly commended' honour.
Click on a thumbnail to enlarge.


---