Maidenhead Static Model Club
News Archive July-Dec.2003
THE MSMC PRESENTS CHRISTMAS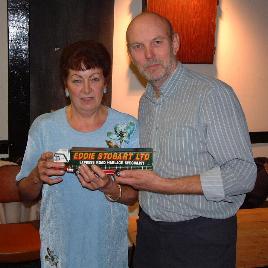 The Maidenhead Static Model Club were proud to present Mrs Barbara Simpson with the Corgi Eddie Stobart resin pre-production model auctioned at the September 2003 Windsor International Toyfair. The MSMC wish to thank Mrs Simpson & Corgi Classics for their continued support of the club's charity projects. Thanks to the auction the MSMC are able to support The Shooting Star Trust with their building of a new centre in Hampton, Middlesex.

The December club night was the club's annual Christmas social, with members enjoying a sit down Christmas dinner & plenty of season's cheer! This year's Christmas gift to members was a certificated limited edition Lledo Morris Minor Promotor van, appropriately finished in white and celebrating a 'Happy Christmas 2003'.
---
THE MSMC ARE COUNTING DOWN & TAKING OFF!
The November club night was a good old social gathering, with a members' Bring & Buy sale and plenty of chitchat all evening. To tie in with the retirement of Concorde, the competition and display was aviation orientated. Ray Jeffries was triumphant with his tin plate model of a Messerschmitt Bf109 hand made from old solvent tins! Alan Simpson's tin Mettoy G-A MTY airliner scooped second place, while Roger Coles grasped third place with an attractive chrome finished 'widow maker' Starfighter. Also well worth a mention were Geoff Noble's Aero Mini BOAC VC-10, which won fourth place and Robert Newson's charming Timpo Aerodrome display, which was awarded fifth. This included a rare wartime Timpo DH Comet and composition models of a Flying Fortress and Horsa Glider.

Click on an image to enlarge.

---
MSMC SENT TO COVENTRY!
The Maidenhead Static Model Club enjoyed a visit to Jaguar cars at Coventry in October. Members were given a guided tour of the production line and a look around the Heritage Trust Museum. It was a fascinating glance into the many aspects of modern car production and a real pleasure to see that Jaguars are still 'hand crafted' with love and attention in the United Kingdom.
The October club night saw the annual charity auction; members donated their unwanted collectables to raise funds for the Club's charity fund. Auctioneer Dave Robinson kept the activities moving along in his amusing and entertaining fashion.
---
A FRENCH FLAVOUR AT MSMC!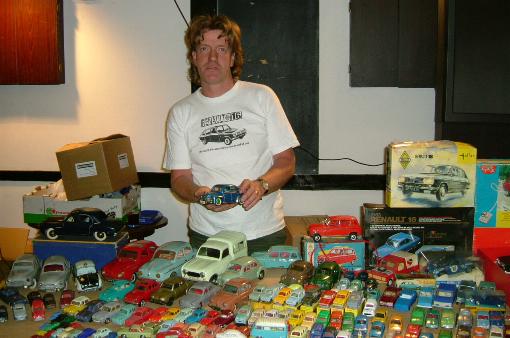 The September Club night meeting of the Maidenhead Static Model Club had a French flavour to it. Patrick Trench fascinated members as he shared his knowledge and amusing personal encounters with Renault vehicles, both full size and in model form! He brought along a fantastic selection of Renault models from his collection to illustrate the talk. Members were amused by the many stories he told.
Appropriately, the theme of the display and competition was 'French Models'. The competition table held a good display of models for the judges to make their selection. First prize went to Paul Rowley for his little red car & trailer. John Bennett was awarded second prize for his dustcart; third prize went to Michael Driver's red and blue tin trolley bus. David Conway picked up fourth place with his Solido car and the final points position was given to Dave Robinson's ceramic ashtray.
---
Club members appreciated an entertaining evening at their August Club night. MSMC's Secretary Dave Robinson brought along a large selection of 'plastic models' from his collection and chatted for well over an hour about his 'love & intrigue' of these 'treasures' The history and origin of many examples of 'look-alike' models proved most interesting.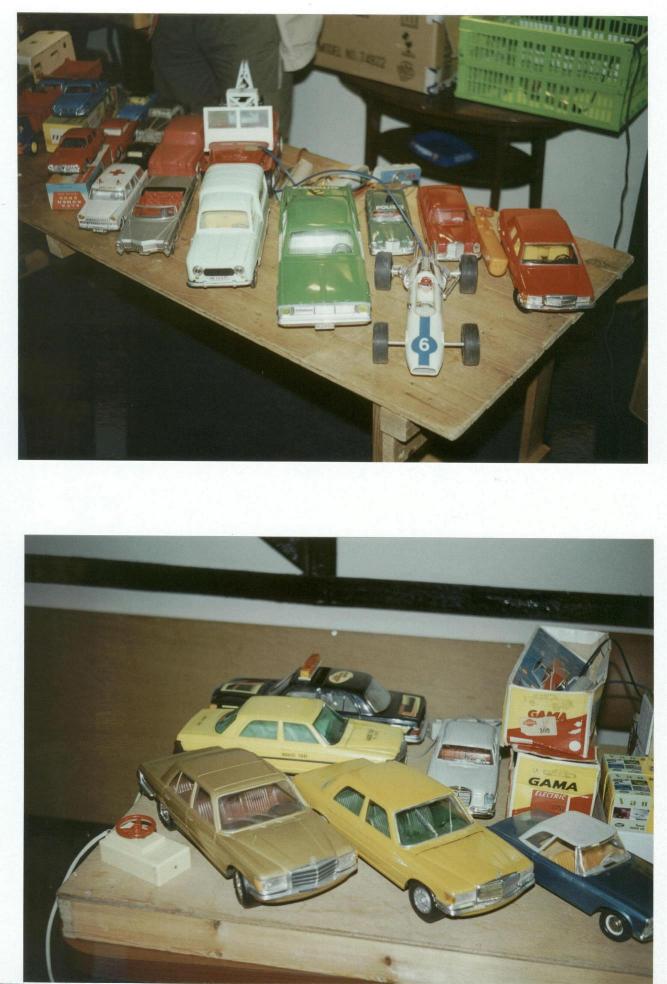 The theme of this month's display & competition was 'my favourite toy' A good participation provided a wide and varied display for the judges to make their selection. John Garside picked up first prize with his CIJ 'Chantier Travaux Publics' boxed set, containing a Saviem J240 Tipper Lorry & working sand hopper. Second prize was awarded to Michael Driver for his Marx battery operated Jaguar E-Type Roadster; third prize went to Alan Simpson's Spinning Top, while Derek Boxall picked up fourth place with his Mettoy Computacar and Barbara Simpson scooped fifth with her large white dressed doll.
---
MSMC ENJOY A SUMMER BARBECUE!
The Maidenhead Static Model Club enjoyed its annual barbecue in July. A large attendance of members appreciated the good food, fine weather and friendly chitchat.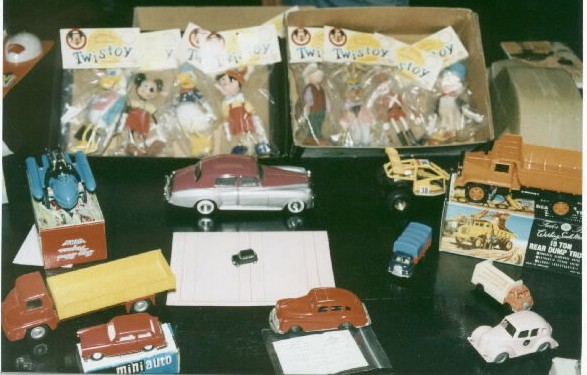 This month's display and competition of plastic toys and models was extremely well supported. John Bennett scooped first prize with his large scale 'friction' powered two-tone Rolls Royce Silver Cloud.
Second prize was awarded to Bill Alexander for his 1:87th scale British Racing Green Herpa Mini Cooper & third prize went to Barbara Simpson's set of twelve Marx Twistoy Walt Disney figures.