Maidenhead Static Model Club
News Archive 2010

SHAKEN BUT NOT STIRRED!
The title refers to David Barzilay who was our guest speaker in June. He is a well-known motorsport jounalist, and gave us a very entertaining evening with a talk full of stories from his career. He modestly said he was lucky enough to be in the right place at the right time for his career.


Our competition theme was James Bond related models and memorabilia. First prize went to Janet Collins for her 1968 James Bond Annual and James Bond Aston Martin. This car is actually a cigarette lighter. Colin Penn had the second prize for a Lone Star Harvey Series James Bond 'Thunderball' craft. Third prize went to Hilary Gatward for her Husky 'Crimebusters' Gift Set. The Aston Martin had no passenger in the ejector seat - wisely removed by Hilary, as she knew someone would not be able to resist the temptation to try it!
Click on a thumbnail to enlarge.
---
BEAUCOUP DE CITROENS!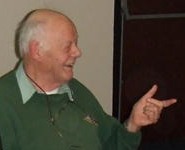 The theme for the May club night was Citroens. Club member and Citroen enthusiast David Conway gave us a fascinating talk and slide presentation, with many stories to tell us from his experiences over the years.
Of course our competition theme was Citroens. We had a very varied display again and not even one Citroen 2CV. A display of Jouets Citroen made of plaster and flour (platre et farine) brought along by John Garside took 1st place. He told us the cars are as old as himself! Roy Ellison took 2nd prize with his large scale DS19 - he was not sure who the manufacturer was. A Corgi 'Le Dandy' DS Coupe took 3rd prize for John Ward.
We also made our annual charity presentation, see the Charity page for details.
Click on a thumbnail to enlarge.
---
THINKING CAPS ON!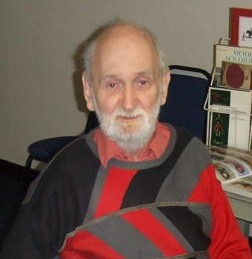 April saw our resident quizmaster, John Garside, providing us with one of his famous Chadwick's quizzes. The winners were a team comprising Michael Edwards, Mike Forbes, George Hatt and Bob Pitkin. They displayed very impressive knowledge!
The competition theme was wooden toys, and members brought a very diverse array of toys for display. A wooden London bus took first prize. Robert Newson's bus was made by Grace Toys around 1943-46. Brian Gatward took second prize with his Henlys garage complete with Jaguars. Janet Collins was awarded third prize for her rocking horse. It was bought from an old shop in Bridport, and appears to be an old fairground horse that was converted to a rocking horse. Certainly three very different items, all worthy of the prizes.
Click on a thumbnail to enlarge.
---
AGM TIME AGAIN
March sees the club's Annual General Meeting. After the usual formal business of the meeting, the trophies were presented as follows:
Harry Gunner Trophy (for the chop competition) - Paul Rowley.
John Parker Trophy (for points awarded in the monthly clubnight competitions) - Bob Collins.
Tony Gleave Trophy - Cliff Maddock, for his outstanding contribution to the club in producing the club's monthly magazine

Wheel Bearings

.
Participation award (for most frequent entries in the monthly competitions) - Robert Newson.
Anthony Armstrong Trophy (for promoting collecting internationally) - John Ward and Bob Collins for organising the Houten trip.
After the business was concluded, we all enjoyed the usual buffet.
---
IS IT A CHOP?... A KIT?...


February turned out to be an entertaining evening, as the chop and kit competitions provoked a lot of discussion. The members who enter these competitions work hard to produce
a high standard of
entries.
Entries in the kit competition are awarded points towards the John Parker trophy (presented annually to the member receiving the most points
in the monthly competitions)
. Ray Jeffries took 1st prize with his Scaledown model of a 1950 Ferguson tractor. Bill Alexander had 2nd prize for his Comet M59 kit of the Stanier 3111 locomotive (not pictured). A Micromodels AEC Matador card kit, built by Robert Newson, took 3rd prize.
The chop competition entries compete for the Harry Gunner trophy. Paul Rowley won this with a magnificant Big Wheel. Although mostly scratchbuilt, Paul said this was a chop, as the Big Wheel was mounted on a trailer which had been chopped for the purpose. The model was based on a Big Wheel seen in High Wycombe when the new shopping centre opened. Derek Boxall took 2nd prize with a Corgi ERF truck with a cargo of pigs.
As well as the competitions,
Cliff Maddock
kindly put on a display of goodies relating to the Automobile Association. As well as many different vehicles, he bought along books, leaflets, badges, toys etc., making a splendid display.

Click on a thumbnail to enlarge.
---
SURPRISES ABOUT BAYKO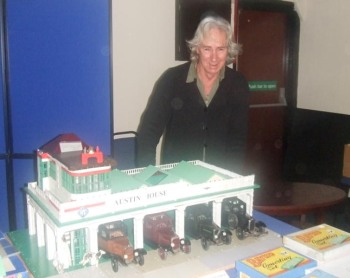 One of our members, Neil Baldry, kindly volunteered to give us a talk on Bayko. Neil has a lot of knowledge on this subject and is a member of the Bayko club that was formed 20 years ago. Neil had many interesting exhibits with him including a magnificent garage, adverts, leaflets and articles.
January's competition theme was restoration. This has to be the member's own work, so we do not get as many entries as normal but still had an interesting display. Ray Jeffries brought a very eye-catching display of lead fiures including Algerian Spahis, a Highland brass band and Highland marching figures. This was awarded first prize. Bob Collins took second prize with his 'Yellow Pages' bus - he has many tins of paint at home, bought to find just the right shade of yellow! Third prize went to Robert Newson for his Charbens fire engine, mounted on an ashtray as giftware.
Click on a thumbnail to enlarge.