Maidenhead Static Model Club
News Archive 2007
PARTY TIME AT THE MSMC



The December meeting followed the traditional format of free seasonal food and drinks, a splendid festive raffle with plenty of prizes and a special club Christmas gift. The 2007 gift was a superb copy of the Dinky Toy 39 series Oldsmobile 6 Sedan in beige with black hubs and white tyres, and carrying the club logo on the front doors. It was very well received by members.
See the
Gallery
of all our club models through the years.
---
MSMC ON TRACK



November was the month when we abandoned our principles of being a 'static' model club and engaged the one-time 'enemy' at their own game - ie. slot car racing! The slot-car track was duly set up and a few circuits removed the condensation (dare one say corrosion?) from the tracks and motors, so that the cars were soon ready to go at their master's command, although perhaps the red machine had a slight advantage over the white one. Be that as it may, we worked our way through the heats and the winner turned out to be a slightly bemused Les Duplock, who was perhaps a closet expert from his mis-spent youth - he just seemed to keep his car going steadily and let his opponents run theirs off the road. Several times the cars performed leaps off the table but all ended well and the system was packed away until next time.
The display competition was 'Toys of the Seventies', and members came up trumps once again with a marvellous array of models. John Garside maintained his presence amongst the top honours by taking first place with his Wend-al diorama of cowboys and indians. Regular prizewinner Barbara Simpson gained second place with her Paddington Bear entry and third place went to Phil Dyer for his Britains tractor and seed planter model. Bob Pitkin was awarded the fourth prize for his Volkwagen Beetle winter sports model which made one feel cold just to look at it!
Click on a thumbnail to enlarge.

---
KINSELLA WOWS THEM AGAIN AT THE MSMC




October was a busy month for the club, including a very successful social outing to the Hogs Back Brewery, and a talk from motor personality and historian David Kinsella. David kept us enthralled with his history of the famous Allard marque, interspersed with anecdotes about the personalities he has known and met during his colourful career, such as Shelby, Cunningham, Moss and others.
With the onset of autumn and with halloween on the horizon, the theme at the October meeting was 'Black Toys', once again producing some ingenious responses from members. First place in the awards was selected by the judges as John Garside's Modern Products Wolseley 6/80 Police Car, complete with period box. Second place went to Barbara Simpson for one of the scores of dolls in her collection. Robert Newson achieved third place with his racing car no.85 by Best Toy & Novelty Factory (USA) and fourth place went to Paul Rowley for his Tekno 'Black Beetle'.
Click on a thumbnail to enlarge.

---
THE MSMC SHALL HAVE MUSIC!


The major event at the September clubnight was the annual charity auction, for which members donate toys, models and literature of all descriptions, the proceeds helping to swell the club's annual fund to support a local children's charity.
Click on a thumbnail to enlarge.


September's display was 'Toys on a Musical Theme', and members showed their ingenuity by producing examples from both expected and unexpected quarters of the toy world. Pride of place went to Barbara Simpson again for her novelty tinplate 'Jiving Jigger'. Second place went to Bob Pitkin for his fairgound 'gallopers' and third place to John Garside for a superb Timpo van in HMV livery. Fourth was John Ward's 'Lion King' Kenworth truck, while other entries included a clown with cymbals and a lead flat marching band.
---
CLASS OF THE '60s AT THE MSMC
It was 'back to the sixties' for the competition theme at the August club meeting. It seems unbelievable that that decade is 40 years ago and more - for those of us who remember it (and I guess that's most of us) it seems only like yesterday. Members came up with some wonderful toys to remind us of what might have been on offer in the shops of the time. Toys and models had begun their rapid climb into sophistication and many of the major players in the toy world were in full swing - Dinky, Corgi, Matchbox, Spot-On and Budgie were at the forefront of the British manufacturers list.
First prize was awarded to Barbara Simpson for her delightful display of teddy bears at their picnic. Robert Newson gained second place for his model of a DAF saloon by Best Box of Holland. The other half of the Simpson partnership, namely Alan, came in third with his intriguing Tri-ang Spot-On obstacle puzzle model entitled "Tilt'n'Roll", complete with period artwork box. Colin Penn submitted a semi-trailer Petrol Tanker unit in 'Shell-BP' livery by Paramount which gained him fourth prize spot. Other worthy entrants sadly did not make the prize list, of which this Rocket Launcher Truck was one.

Congratulations to all entrants for providing a superb array of vintage toys and models.

---
MSMC ON THE BUSES


At the July meeting Peter Duplock gave a Powerpoint presentation about the Cobham Bus Museum, and to reinforce the 'Buses' night the theme for the competition display was 'Buses and Coaches' and a fine array was on view. Unfortunately our usual cameraman had not brought his equipment along, so were unable to take any photographs at the meeting. However, we are able to reproduce images from Les and Peter Duplock explaining their novel conversion of a fire brigade support vehicle kit into a London Transport night time Inter-Station bus of the mid-1930s. This nicely built and painted model won first prize. The model is pictured below left with the real thing below centre.


John Garside won second prize for his CIJ. (of course) Renault bus and Cliff Maddock's tinplate Chad Valley single decker (pictured above right) was awarded third place. Fourth prize went to Roger Coles for his Lledo model bus in the livery of Irish Airbus 747. Well done to all those awarded prizes and to those who entered models without an award this time. It's the taking part that counts!

---
'PAT ON THE BACK' NIGHT AT THE MSMC


We took time out during the June club meeting to congratulate ourselves on raising £1,000 in the past year or so for a children's charity. See the
Charity page
for more details.
With a very wet summer so far (after a good spring season), it seemed rather appropriate that the subject of the June display was Models of Water Craft and we were 'deluged' with superb examples of that genre. First prize was awarded to the C.I.J. Amphicar, submitted by John Garside. Michael Driver's military DUKW came in a close second, with Bob Pitkin's Volkswagen Schwimmwagen taking third and Paul Rowley was also in the prizes with his Motor Torpedo Boat.
Also pictured is Robert Newson's delightful working model of Tower Bridge, made by Eebee Toys. It did not quite make the prize-winning list, despite having its original scarce box and two paddle steamers.
The July issue of our magazine 'Wheel Bearings' contained a fascinating article by member Colin Penn outlining the history of Copycat Models of which he was at one time proprietor.

| | |
| --- | --- |
| | |
---
'ON YOUR BIKE'


The theme at the May club meeting was 'Bikes and Trikes' and members did us proud with a great display of a wide variety of models. As usual the judges had to employ much thinking power to select the winners, but in the end the first prize went to Derek Boxall for a motor-cycle-sidecar combination depicting a Postal Service outfit. A model combination outfit also won second prize for Alan Simpson, his entry being a colourful Russian-liveried version of an A.A Patrol, motorcycle on the left of the car of course, although the sidecar was not a toolbox as on the British outfits, but a fully upholstered single-seater!

A Triumph Thunderbird model submitted by Roger Coles gained third place, and stirred many youthful memories for those of us who either owned one or craved one. Bob Pitkin's charming and colourful model of an ice-cream seller's tricycle gained him fourth place in the prizewinners list.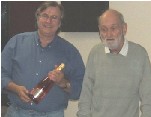 John Garside's 50-question general knowledge quiz left most of us gob-smacked, the highest points gained being about 20 out of 50! And we thought we were clever dicks! Mike Forbes proved to be the cleverest and was presented with a bottle of wine.
---
MSMC ON A ROLL!
Brian Gatward certainly had us 'rolling' at the April club meeting, if not in the aisles then firmly on the road with his presentation on Volvo - the company and the vehicles. The name Volvo is (apparently) latin for 'I roll'. Brian and Hilary expounded to us the development of the company from its small beginnings, created by two employees of the SKF Bearing Company, to the multi-national giant which it is today They also explained to us the vehicle model identity numbers, those with a 4 or a 6 in them referring to the number of cylinders, and so forth. The lecture was enhanced by a wonderful display of models.
We all know of the Volvo reputation for sturdiness and reliability - perhaps these are two of the reasons why a motor manufacturing company from a small country, and with none-too-glamorous models, has survived in world markets when all British efforts have failed, and when we were always told that our home market isn't big enough to give us benefits of scale. Good luck to Volvo - long may they roll.
The display competition could not, of course, be anything other than Volvos, and members certainly brought some goodies out of their collections to test the judges. First place, for a Volvo tractor and semi-trailer, was awarded to Alan Simpson. Second prize was taken by the South African Dinky Toy Volvo saloon, entered by Michael Driver. A large scale Volvo 144 saloon in red plastic gained third place for Bob Pitkin, and it was back to a commerclal vehicle for fourth place, a bright yellow tipper truck entered by Paul Rowley.
---
A big thanks to our chairman, John Ward, who kept two balls juggling in the air throughout the last twelve months by holding two posts on the committee. As the chairman has quite enough responsibility on his plate, he asked to be relieved of the portfolio of publicity officer at the AGM. In the absence of any other volunteer, newsletter editor Cliff Maddock declared himself willing to take up the publicity reigns as well as his other post.
After the essential business of the AGM, it was the chairman's pleasant duty to present the club awards to those who have participated or contributed exceptionally during the past year.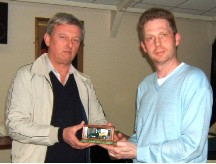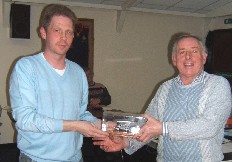 The Harry Gunner Trophy for the winner of the 'chop' competition was this year awarded to Paul Rowley. Paul, along with John Bennett, is one of the major participants in this competition and one or other of these two seems to take the prize in most years!
The John Parker Trophy, for the most points awarded for entries into the monthly competitions, this year went to membership and social secretary Alan Simpson.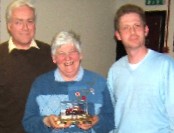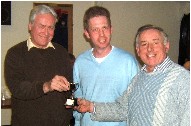 The Tony Gleave Trophy, presented for outstanding contribution to the club during the past year, was awarded jointly to Brian and Hilary Gatward.
The new 'Participation Trophy', awarded for the most participation in the monthly club competitions, was awarded jointly to Brian Gatward and Alan Simpson.
Well done to all those featuring among the prizewinners. I am sure that all the winners would agree that what they have done others could do. So maybe we might see some other members names appearing in the roll of honour in future?
The Anthony Armstrong Trophy, for the member who has contributed most to international friendship and co-operation in the world of toy and model collecting, was this year not awarded.
---
CHOP & KIT NIGHT and A LITTLE CONFUSION at THE MSMC!
The February 2007 club meeting was time for the annual MSMC Chop and Kit competition. As in previous years, Paul Rowley's entry to the Chop competition was eagerly anticipated; what was he going to inspire us all with this year? There was certainly plenty of opposition, as the number and variety of entries in both competitions was exceptional. After a 'mix up' in which one entry had been judged in the wrong competition, Paul certainly didn't disappoint and took first prize in the chops with his exceptional Shell/BP Motor Spirit Tanker. Second place went to John Bennett for his curious Ford bus conversion and Derek Martin was awarded third place for his cement mixer.

A surprised Roy Ellison won the kit competition with his Varney Horse Drawn Omnibus kit. Second place went to an even more astonished Peter Carpenter and his Metropolitan locomotive. Phil Dyer took third place with... yes you've guessed it another tractor - a large scale Down Models white metal kit of a 1953 E1A Fordson Major.

John Garside treated members to a very interesting talk, with a little heckling from Robert Newson, on the history of the River Series 'From England to Israel'. We were certainly intrigued at how much of a mystery the River Series had been and how much is still unknown. To complement the talk, John and Robert displayed some prized models from their collections.





A scarce River Series boxed set displayed at the February clubnight (John Garside collection).

Click on the thumbnail to enlarge.
---
RESTORATION COMPETITION

The January club night saw the annual 'Restoration' display and competition. Michael Driver won over the judges, who had a very hard job making their final decision, and walked away with first prize. Second place was awarded to John Elphick. The final prize went to Alan Simpson, while Derek Boxall grabbed the fourth place points. Brian Gatward and John Ward both entered models from their childhood, each having fond memories and plenty of stories to tell.