THE MSMC CELEBRATES CHRISTMAS!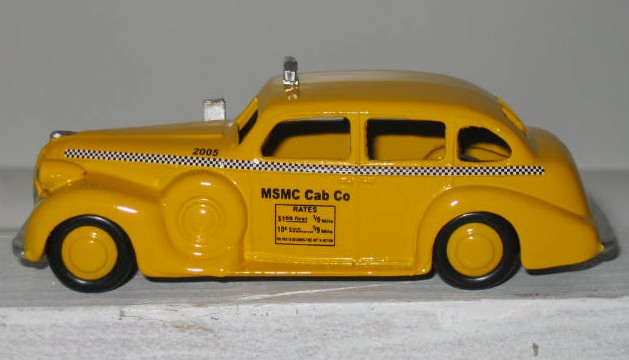 The club celebrated Christmas with a full seasonal dinner and plenty of festive cheer. Members enjoyed the relaxed and festive atmosphere with plenty of raffles and other activities taking place throughout the evening. As Les Duplock got the 'super' raffle underway, he had his usual spot prizes to award to the unsuspecting winners! The TV/Video was actually won by the Duplocks, who kindly auctioned it during the evening and donated the money raised to the club's charity fund.
This year's club members' Christmas model was an exclusive Dinky replica Buick USA Taxi cab in an 'MSMC Toys' Dinky style box. Finished in MSMC Cab Co. livery, each box was numbered in a limited edition of only 100 produced.
---
MSMC MEMBERS BID FOR A BARGAIN


The November club night was time for the annual MSMC charity auction. This year there was a slight change in the format - members were able to sell their items and donate the full sale price or just a percentage to the club's charity fund. The majority of vendors contributed the full hammer price to the charity. The auctioneer for the evening was Les Duplock, who kept the activities moving swiftly along, regardless of the fact that everyone seemed to freeze every time a lot was chosen. Despite this the charity fund grew by £106 thanks to everyone's generosity.

---
A MINOR TALK AT THE MSMC


Club member and motoring enthusiast John Harrison gave an entertaining talk on Morris Minors at the October club meeting. He kept the clubhouse quiet for a good three quarters of an hour, while he shared his knowledge and enthusiasm for all things Morris Minor. As well as his interesting chat, John also brought along a large selection of Minor models and many associated items from his collection. The tables were covered with Morris Minors manufactured from all sorts of materials - the usual diecast, an assortment of plastic, some great large ceramic models and yes, John did have a coal Minor!
Click on a thumbnail image to enlarge.
The display and competition theme for October was also Morris Minors. It was only fair that John Harrison was given the job of judging the entries. Neil Baldry was given first prize, despite his 'multi' entry car transporter complete with a full load of Morris Minors. Second place was awarded, just for shear cheek, to Les Duplock for his figures. Bill Alexander scooped third place with his American Pepsi Cola Custom Replica Minor. New member Brian Gatward was just out of the prizes with his Corgi Police set, while Alan Simpson grabbed the last of the points positions with his rally Minor.

Click on a thumbnail image to enlarge.
---

QUIZ NIGHT & PRESENTATION AT THE MSMC

September was another busy month for the Maidenhead Static Model Club. As well as our successful toy fair, we also made the annual charity cheque presentation (see the
Charity
page) and enjoyed a quiz night. The pub-type quiz was very well received, unfortunately it seemed that several members left their general knowledge elsewhere that evening! After several recounts the first and second place teams were rewarded with some alcoholic beverages, while the third place team all went home with bags of peanuts!
The display and competition theme for September was Emergency Vehicles. Robert Newson took first prize with his 1920s Plank Fire Pumper. Second place was awarded to Paul Rowley's Modern Products Fire Engine. Congratulations to Hilary Gatward, the club's newest member, who took the last of the prizes with her Aspro Citroen Ambulance. The final points positions were awarded to Alan Feldman in fourth place, while Bob Frost grabbed fifth spot.
Click on a thumbnail image to enlarge.
---

WHITE VAN MAN AT THE MSMC!

The display and competition theme at the August MSMC clubnight was delivery vehicles. The display table had many interesting and amusing entries for the judges to consider. The triumphant winner was John Bennett with his F.Stokes Cowkeeper Ford Model T Van. John Garside was awarded second place for his charming CIJ Evian Flatbed lorry complete with crate load, while Barbara Simpson won third prize with her Horse Drawn 'It's a Boy' moneybox. The final points positions went to Robert Newson, who was presented with fourth spot for his lovely Bakery Van, manufactured by Barclay, USA around 1934. Colin Bennett grabbed the final points position with his little white Minic Ford Thames Van.
Click on a thumbnail image to enlarge.
---
FISH 'N' CHIPS ALL ROUND AT THE MSMC


The Maidenhead Static Model Club enjoyed a fish and chip supper at its July club night. As members and their guests tucked into the cuisine the clubhouse turned silent for fifteen minutes, not even a holler of 'where's the ketchup?' from John Garside this year!
The display and competition theme for July was Hong Kong Toys. Michael Driver took first prize with his charming friction powered Securicar Armoured Division van. Second place was awarded to Robert Newson's attractive little yellow Jaguar XK120, manufactured by Lincoln. Cliff Maddock took the last of the prize positions with his clockwork tinplate clown on a scooter. The final points were given to Derek Boxall's battery operated bump-and-go action Austin 1800 in fourth place, and Alan Simpson grabbed fifth spot with his tinplate clockwork motorcycle and sidecar.


Click on a thumbnail image to enlarge.
---
HISTORY MADE AT THE MSMC?
The Maidenhead Static Model Club had to cancel its June club night meeting at short notice because the clubhouse had the decorators in! This is the first time we can recall that an MSMC club night had to be cancelled. Any members who still wanted to meet gathered at a local pub for a drink and a chinwag.
COLIN PENN CHATS TO THE MSMC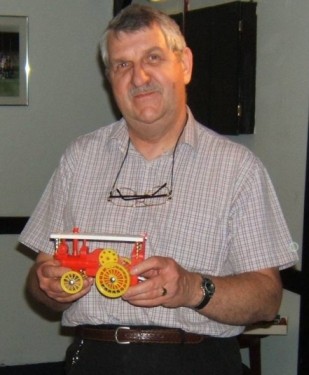 Colin Penn entertained members at the May club night meeting with his entertaining discussion on Tri-ang Minic toys, telling of the rise and fall of the company. He kept members amused for over an hour, sharing his passion and knowledge of his hobby. Colin also brought along a large selection of rare and prized models from his collection.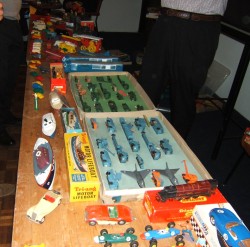 Obviously the display theme and competition was also for Tri-ang toys. Once again, club members found many interesting items to enter into the competition. First place went to Derek Boxall's delightful boxed tinplate Minic clockwork green/red delivery lorry. Barbara Simpson was awarded second prize for her clockwork Evening News van and third place was presented to Michael Driver with his large Hi-Way milk lorry. Just out of the prizes were Robbie Bennett's Spot On Rover P5 and Colin Bull's massive Tri-ang Delivery Van, in original 'played with' condition.

Click on a thumbnail image to enlarge.
---
MSMC MEMBERS GET INTO THE GROOVE!

The Maidenhead Static Model Club's April club meeting was time for their annual Scalextric night. This year rather than the usual elimination 'knockout' races, it was all against the clock. One member had kindly lent the club the very scarce Scalextric hill climb and dragster turn track sections from the late 1960s. Most of those present were keen to have a go; after a few laps of practising to warm up their tyres and gain some sort of car control the clock started. This year's honours were awarded to the MSMC's renowned Scalextric champion Robbie Bennett, who managed a lap time of a mere 4.4 seconds! Hot on his heels were David Farrow at 4.5 seconds and Richard Ayling at 4.6 seconds.
To complement the Scalextric time trial, the display theme and competition was slot cars. As usual many members managed to find something within their collections and provided a good selection and variety of models on the competition table. First place was awarded to a surprised John Ward for his totally original Tinplate Scalextric Ferrari 4.5L Grand Prix car, circa 1960. Michael Driver was awarded second prize for his D-Type Jaguar and third place was presented to Alan Feldman with his 1:32nd scale MRRC 4-wheel drive Indy Novi. Just out of the prizes were Colin Sinnott's Scalextric RS200 and John Bennett's charming handmade stock car.

Click on a thumbnail image to enlarge.

---
MSMC MEMBERS GO TO THE POLLS!
The Maidenhead Static Model Club began its 36th year with the Annual General Meeting in March.

The current committee were all re-elected for the forthcoming year; the only change was the well-received appointment of Robbie Bennett as Membership Secretary.

The Committee were congratulated by Ian Cook, the Honorary Vice-President of the MSMC, on the overall outlook of the club and the continued success of the Windsor International Toyfair.
As well as the AGM, March is also the month when the club's annual trophies are awarded.

Honoured by the Club for their efforts and achievements were John Bennett, who received the John Parker Trophy; this was awarded for winning the most points in clubnight display competitions.

The Harry Gunner Trophy was awarded once again to Paul Rowley in recognition of his outstanding chops, which have become legendary within the MSMC.

The Tony Gleave Trophy was presented to Ron Simmonds for the exceptional effort contributed to the club over the past twelve months.


---

CHOP & KIT NIGHT AT THE MSMC!

The annual MSMC Chop and Kit Competition was eagerly anticipated at the February club night; what was Paul Rowley going to impress club members with this year? The quality of entries and the scope of their appeal was exceptional and the standard of the models as high as ever

.



Paul certainly didn't disappoint, as he dominated the chop competition, taking first place with another example of his highly respected craftsmanship. This year his winning entry was of an Oshkosh, which he created using the wheels and a section of trailer from a Corgi Heavy Haulage model along with a scratch built cab unit. Second place went to John Bennett's equally ingenious stock car model, in which he used a combination of a Hot Wheels body assembled on a Corgi Rockets chassis - once again, brilliant.





Bill Alexander's 0-4-4 Tank Locomotive won the Kit competition (click on the thumbnail photo to enlarge). He told club members how this model had taken him the best part of twenty years to complete. It seems every model has a story to tell these days? Second place was awarded to Phil Dyer's 1:32 Scaledown Models kit of a 1948 Fordson E27N Tractor with hydraulics. John Bennett also grabbed third place in the kit competition with his Monogram kit of a Super Modified Sportsman.
---

MSMC ENJOY A SUCCESSFUL WINDSOR TOYFAIR!
The January Windsor Toy Fair organised by the Maidenhead Static Model Club continues to flourish, despite the apparent demise of several other well-established events. After the triumphant 100th Toy Fair twelve months ago, it appears that both dealers and the public alike come to the Windsor Toy Fair to experience the great buzz and atmosphere at the event. This January the MSMC welcomed The Dinky Toys Collectors' Association who had a display table. One of the dealers present was Steve Flowers, the well-known replacement parts stockist. Steve has confirmed he will be in attendance at all of the 2005 Windsor Toy Fairs. Many overseas visitors were also present - several French and Belgians were among the many guests whose positive feedback was greatly appreciated. The Windsor Toy Fair continues to be the premier event on the collectors' calendar.

The January club night saw the MSMC's annual 'restoration' display and competition.

Michael Driver's beautiful Dinky Daimler Ambulance won over the judges and walked away with first prize.

Second place was awarded to Ian Cook's remarkable Bedford TK Coal Truck.

The final prize went to Derek Boxall's charming Dinky Commer Wrecker.

Dave Robinson's Opel Kapitan and Phil Dyer's Field Marshall Tractor were both awarded the final points positions.