CHRISTMAS DINNER!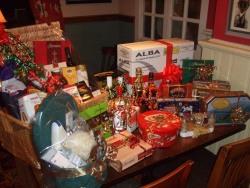 About 60 members enjoyed a Christmas meal together this year. We went to our usual venue at the Toby Carvery, Old Windsor. The raffle had a television as top prize, hampers, bottles, biscuits and chocolates were also very welcome prizes.

Members received a Christmas gift which was a copy of the Dinky toys first type 28 series van. The number 28J was put on the box as this number was never allocated by Dinky. The committee had spent many hours discussing this model to get it looking exactly right.
Another enjoyable club Christmas celebration!
---
NEIGH, NEIGH


Our November club night had the theme of horse drawn vehicles. A good selection of vehicles were on show including carts, gipsy caravans, stage coaches and coronation coaches.
The evening was a 'natter and noggin' night plus trading tables. Many members did bring along items for sale and this proved popular.
Our competition was won by Bob Collins with his lovely Lesney coronation coach. A Crescent stage coach from John Garside took 2nd place. Robert Newson had the 3rd prize with his pre-war Charbens lead gipsy caravan. The judges had a difficult time deciding the winners as there were so many varied entries.
Click on a thumbnail to enlarge.
---
TICKETS PLEASE


The October club night had the theme of Public Service Vehicles. Nigel Appleby presented a slideshow where most of the buses were shown in their 'natural environment' either en route or at the bus garage they originally came from. Nigel is very involved with bus preservation and the various museums around the country dedicated to this.
Our competition followed the PSV theme. Michael Driver bought along an Ertl Greyhound bus that fully deserved its first prize. Janet Collins took second prize with her Dinky Bedford coach, and Bob Collins had a trade box full of Dinky 29c Double Decker buses for third prize. The competition was well supported with many different types of public service vehicles on show.
Click on a thumbnail to enlarge.
---
SCALEXTRIC GRAND PRIX


In September we had our Scalextric slot-car Grand Prix competition. Everyone had a go at trying to get the car around the track without coming off on the corners. Allan Feldman was our champion this year and went home with a bottle of bubbly.


The competition theme was clockwork toys. 1st prize was taken by Bob Collins with a Hornby Gauge O clockwork train set. Derek Boxall had 2nd prize with a Minic lorry. 3rd place went to Brian Gatward with a Sutcliffe boat named Diana, while Robert Newson took 4th prize with a Chad Valley Wee-Kin diecast Sunbeam-Talbot.
Click on a thumbnail to enlarge.
---
A PINK THEME AT THE MSMC


August is usually a quiet clubnight with many members on holiday, so we met for a natter and a noggin. There was still an excellent display for the competition on the theme pink toys. Surprisingly the display was not dominated by Lady Penelope cars, but instead there was a very good variety of toys in all shades of pink. A hotrod stock car from Rob Bennett took 1st prize. Clive Gehle brought a miniature dolls' house telephone by Barrett & Sons for 2nd prize. Third place went to Robert Newson with a Manoil fantasy futuristic car, made in the USA in 1935. John Garside was given 4th prize for a Citroen Petite Rosalie racer made of plaster and flour (

platre et farine

) by Les Jouets Citroen in 1934.
Click on a thumbnail to enlarge.
---
FISH & CHIP SUPPER


July was our annual fish and chip supper. Our chairman John Ward kindly collected the food from a local restaurant.
After eating we moved on to the competition, where the theme was commercial airliners. Roger Coles took 1st prize with his Russian aeroplane. 2nd went to Ron Simmons with a Corgi Dan Air plane. Bob Westerbeke flew away with 3rd prize for a BEA Trident III, and John Garside took 4th with a noisy Boeing 747.
Click on a thumbnail to enlarge.
---
CHARITY PRESENTATION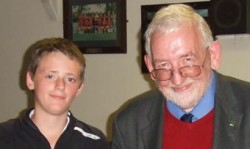 At the June clubnight we presented our chosen charity Rosie's Rainbow with a cheque for £750 (see the Charity page for details).
Then we had a slideshow presented by David Wilder helped by his grandson Daniel (pictured left). David is an authority on the buses of Berkshire, and many of the slides reminded members of their journeys in years past.
Our competition theme was tractors and other wheeled farm implements. 'Big Roy' was bought along by Phil Dyer and took 1st prize. 2nd went to Bob Collins with his farmyard scene including a Dinky Massey-Harris tractor and harvest trailer. Roger Coles took 3rd prize with his wooden Porsche tractor and 4th went to Ray Jeffries with a classic Fordson.
Click on a thumbnail to enlarge.
---
MSMC VIDEO NIGHT


The MSMC Library contains a large selection of videos, so we decided to have a film evening in May. We saw 'Matchbox Memories' from 2004, followed by snippets from the last trip made by Concorde, filmed by member David Conway. Our competition theme was loaded car transporters. We had a good display with a mixture of metal and plastic models. Ernie Jackson won first prize with his transporter carrying a tractor. Rob Bennett's Tekno transporter was carrying a stock car with his name painted on it and took second prize. A CIJ police transporter belonging to John Garside took 3rd prize, and 4th went to David Conway's HO scale Norev transporter loaded with Wiking cars.
Click on a thumbnail to enlarge.
---
WELL-DESERVED 'OSCARS' AT THE MSMC


The March 2009 meeting took the form of the Annual General Meeting. The committee members presented their various reports, which showed us in good state after encouraging toyfair results. We were also pleased to welcome a new committee member, this now leaving just one position unfilled and another to be filled before the next AGM. A vote of thanks was expressed from the floor.
After the formal busines was completed, the Chairman had the pleasant duty of presenting the annual awards. In no particular order:
- The Harry Gunner Trophy for the winner of the 'Chop' competition was presented to Bob Frost.
- The John Parker Trophy, for the most points awarded for entries into the monthly competitions, this year went to Robert Newson.
- The Tony Gleave Trophy, presented for outstanding contribution to the club during the past year, was awarded to Colin Bull for his help in setting-up and knocking-down before and after the toyfairs.
- The 'Participation Award' for most entries into the monthly competitions was won for the second year in succession by John Garside.
This year the Anthony Armstrong Trophy was not presented. This trophy is awarded for the member who has contributed most to international friendship and co-operation in the world of toy and model collecting.
Well done
to all those featuring in the prizewinners lists.
We are sure that all the winners would agree that 'what they have done others could do', and perhaps it is also true to say that the more attempts that are made the easier it becomes. So maybe we might see some other members' names appearing in the roll of honour in future?


---
A MIGHTY FINE EVENING AT THE MSMC!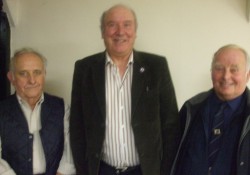 Our guest speakers at the February 2009 meeting were members of The Thornycroft Society, of Basingstoke, who showed us some superb films of the products of the famous Thornycroft company, including many scenes depicting the 'Mighty Antar' units. These were designed for transporting pipes across the desert regions of the middle-eastern oilfields. We were also treated to a 'virtual cab ride' in one of these mighty machines on its way to Southampton docks for export to a collector in Australia. We learned a lot about the Antar, including its several versions, its phenomenal fuel consumption and other vital statistics. Sadly the Thornycroft company is no longer with us (although the name lives on in the marine side of the business), but the Thornycroft Society are doing a great job in keeping the name alive. They organise the renowned Basingstoke Festival of Transport each year, plus a mid-summer Hampshire Road Run for vintage vehicles, they publish a regular magazine and hold regular meetings.
The theme for the competition in February was 'Chop and Kit'. Sadly there were only a few entries, so all entrants got a prize!
In the 'Chop' competition, Bob Frost displayed a Series 4 Morris Oxford Estate Car in grey, the prototype never having been produced as a saloon. This version stayed in production from around 1959 until the arrival of the Farina Estate Car in the mid-1960s. Bob was awarded first prize for this entry.
Derek Boxall has quite a fleet of 'private owner' models, some of which have won prizes in previous competitions. This time Derek entered his Leyland Octopus 'Luton-type' box van in the maroon and stone livery of 'Modern Removals', based on the Dinky Toys cab and chassis.
In the 'Kit' section of the competition, Robert Newson produced a rarely-seen model of a Holden FE Sedan made in Australia by Streamlux (Aust.) Pty. Ltd. The model was produced originally in 1957 but only small numbers were available because the distribitor pulled out of the deal, making original factory-built models very scarce. However, some 20 years later, Pier van Netten, owner of the shop 'Model Cars of the World', contacted Streamlux and discovered that they still held the dies and a quantity of original boxes. He commissioned a run of 1000 models which were sold in kit-form to enthusiasts. This model was awarded first place.
Being a widely-based club, our membership contains a small but dedicated band of railway enthusiasts, amongst whom is Bill Alexander, who has often displayed his kit-built locomotives. This time Bill entered a Ratio model of a Johnson LMS 2-4-0 Tender Locomotive, which gained second place.

Thanks to all entrants and good luck with your future projects.
Members were encouraged to keep working on their 'chops and kits' so that we have a larger entry next year.

Click on a thumbnail to enlarge.
---
'UP FROM THE ASHES' -
RESTORATION COMPETITION


The club's January toyfair at the Montem Centre turned out to be a very good event, with a hall which looked packed with dealers tables and an excellent attendance through the gate, lasting well into the afternoon session. The Dinky Toy Collectors' Association was once again in attendance in force, and it was good to see former members George and Robbie Bennett among us. In fact several faces from the past showed up, including Brian Harvey (of Harv's Model Den of Reading in the 1980s).

The January club meeting had its usual display theme of 'restored models', along with nattering and noggining and browsing members' sales tables. It was pleasing to see some new entrants amongst those 'having a go' at restoring models to their former glory, and the prizes, appropriately, were gift vouchers from Steve Flowers Model Supplies. First prize was awarded to John Elphick for his restored Dinky Toys 972 Coles 20-ton lorry-mounted crane. Looking back to last year, we note that this model also appeared in last year's prize-winners, gaining the number three spot, but we were unable to publish a photograph of it at that time, so this year it is a double bonus for John, in that he won first prize and got his model pictured! Mike Forbes punched the air as his restored Dinky Foden 8-wheeler flatbed, in lovely BRS livery, was announced as winner of the second prize. Mike had given the model a South Bradford (NE Division) branch code. Awarded third place was Derek Boxall's set of Corgi dairy-related vehicles, the 462 Commer Co-op Van and 466 Commer Co-op Milk Float, together with Major Pack model 1151 Scammell articulated truck with a load of milk cans. Just outside the prizes were Michael Driver's Dinky Toys 30f Ambulance and Robert Newson's British copy of a Tootsietoy Graham Coupe, made in England by Johillco and much more scarce than the Tootsie original.


Click on a thumbnail to enlarge.