Maidenhead Static Model Club
News Archive 2008
MSMC CHRISTMAS FESTIVITIES


A good time was had by all at the Toby Carvery in Old Windsor, venue for the MSMC's Christmas Party in December 2008. Chairman John Ward and his colleague Phil Turland worked hard throughout the evening to keep the party happily moving along, but even so we were hard pushed to get everything done and dusted before lock-up time.
After the meal we drew out the lucky prizewinning numbers in the club's grand Christmas raffle. The portable TV set was seen winging its way Ewell-wards, and the hamper of Christmas goodies went to High Wycombe. Congratulations to all those who were fortunate to win a prize.

Then there was a special prize for all members present as our Christmas gift was handed out - this year it is a superb model of a Land Rover Recovery Truck. The model is finished in attractive dark blue with grey jib and a beacon atop the cab. The club's logo appears on each cab door and the model is boxed in a most attractive 'Dinky-style' end-flap box in the traditional yellow colour.
---
HOUTEN TRIP 2008


In late November 2008 a party of club members and other enthusiasts once again participated in the club's annual coach trip to the huge toyfair at Houten, near Antwerp. The format was similar to previous years, with a departure from Windsor at a bracing 5.15am. Janice Bolwell, ably assisted by Richard, took charge of the kitchen and kept us adequately sustained with welcome hot drinks.

Despite the ongoing repairs to the channel tunnel following the fire in the autumn of 2008 we were able to use the facility, although the line speed was considerably reduced. This delayed our schedule in Europe somewhat and after a lunch stop we tried to enter Brussels to visit a museum as planned, but road works prevented our access to the city centre, so we cut our losses and after a visit to the Woluwe shopping mall went straight to our hotel at Meerkirk, the earlier arrival giving us time to relax and refresh ourselves before the evening meal. The hotel provided us with a three-course meal and the rest of the evening was ours to enjoy as we wished.

Next morning saw a covering of snow overall, but we soon arrived at the Houten venue and found our way to our composite stall, some 30ft. (9 metres) in length. We were given a very warm welcome by all our European hosts and much business was done during the course of the day. Those with stalls to look after didn't have much chance to explore this vast fair which covers at least three halls, but some of our coach party expressed great delight at their purchases, with several bargains.

All too soon it was time to pack away what was left of our stock and reboard the coach for the homeward journey, this time straight to Calais. Snow flurries blocked our upstairs view of the road ahead but most of the return journey was made in darkness. We made a meal stop which regrettably had to be somewhat hurried in order to arrive in time for our booked train crossing. There was time for a hasty visit to the duty-free shop at Calais and then it was through British immigration and onto the train for the return crossing. Again the journey was a slow one, but eventually we were back in Britain and driving on the left once again. Windsor was as we had left it - cold and dark - but we dispersed to our homes and hearths in a good frame of mind after another enjoyable club trip.

Special thanks to our driver from Motts Coaches who attended to our travel needs without complaint.


---
MSMC MEMBERS 'IN THE GROOVE'


The 'Statics' became mobile for the November 2008 clubnight, which saw the occasion of our annual slot-car knock-out competition. It seems that a bias towards the red car was evident, the same as last year, but justice prevailed in the end when the white car was declared the winner in the skilled hands of defending champion Les Duplock, despite some confusion among the marshals! Well done Les.
The display theme for the night was 'red toys'. The judges must have been hard pressed to single out the prizewinners, but the first prize went to Robert Newson's American slush-cast model of a Miller-type 'Indy' racer from c1930. It was in superb condition for such an antique model. Robert reports that he acquired it through eBay and was delighted to get it at what he considered a bargain price of £28 including postage. Second place was secured by John Ward's equally scarce model of a Scalextric Bugatti - and we are only talking about a replica! The model was contained in an excellent replica box with packing pieces and documents. The original is said to be 'beyond the dreams of avarice'. Roger Coles once again found an unusual model to show us, this time a Cursor (Germany) model of a Porsche 'Standard' tractor. Again a scarce and sought-after model, commanding a high price if ever available on the toyfair and auction scenes. Fourth place went to John Garside's tinplate CIJ model of tha Alfa Romeo P2 open racing car, issued only between 1934 and 1936.
Click on a thumbnail to enlarge.


---
FROM THE HORSE'S (OR RATHER THE CORGI DOG'S) MOUTH


We were privileged to have a visit from Carl Dudley of Corgi Toys at our October 2008 meeting. He talked about the changes at the company over recent years, which gave us an insight into what goes on 'behind the scenes' in bringing toys to the market. It might sound like a dream job to work in the toy industry, but like any other business, each company has to fight for its survival, and wrong decisions can have far-reaching and unfortunate consequences. Carl Dudley is now involved in the transition as Hornby takes control of Corgi.
The competition for this month could be nothing other than 'Corgi Toys' and as usual, members came up with some stunning examples of Corgi's craft over the years. Pride of place among the prizewinners was an eye-catching Corgi display stand featuring farm and countryside models, owned by Michael Driver. John Garside claimed second prize spot with his Corgi model of a Ballantines Whisky Transporter, complete with four bottles of spirits! This model was available only in duty-free shops at Heathrow and Orly airports. Awarded third place was a Bedford articulated car transporter with cars, so typical of 1960s vintage Corgi toys. The proud owner of this item was John Ward. In fourth place was a Tractor with Rotary Scythe, submitted by Alan Simpson. Another interesting exhibit which did not quite make the prizes was Roger Coles' example of a Corgi 'marketing test release' showing a tractor unit in a 'mock-up' box made from a Corgi 'Aviation Heritage' carton. Thanks to all who gave us a colourful and wide-ranging display.
Click on a thumbnail to enlarge.


---
THE STATICS GET MOVING!


September 2008 was the occasion of our annual 'charity auction' and as usual some interesting items passed through the auctioneer's hands. In total we raised over £100 for our selected charity. Thanks to all who entered lots and especially to those who bought them. The auctioneer was Bob Collins, who did a grand job.
The display theme for the September 2008 meeting was 'Motion Toys', i.e. any toy that moved without pushing! This theme produced some very entertaining results. First place was awarded to Bob Collins for his Marx model marketed as 'Busy Bridge'. In second place was a Brimtoy 'Pocketoy' clockwork model of a Vauxhall 14, entered by Robert Newson. Michael Driver was the third-placed prizewinner with his E-type Jaguar 'stunt-car', which the box described as 'goes forward, tumbles continuously'. Awarded fourth place was John Garside's CIJ novelty 'The Apple Picker'.
Click on a thumbnail to enlarge.


---
MSMC HAS 'YELLOW FEVER'!


It was surprising that members attending the August 2008 meeting were not wearing sunglasses during the evening, because we were faced with a dazzling array of yellow-coloured toys in the display competition. Surprisingly few of the entries were of construction plant, which is characteristically yellow, although Cliff Maddock's Meccano Mogul earth grader was one such item and probably the largest model on the table. John Garside seems to have the knack of producing an entry which will catch the judges' eye and once again he came out on top with his model of a yellow taxi manufactured by Maxwell. Second prize went to a Wiking HO scale Swiss Postbus with trailer car, affixed by a simple drawbar. The model was entered by Robert Newson. Another plastic moulded model gained the third prize, being a rigid chassis AEC Petrol Tanker in the one-time familiar 'National Benzole' yellow livery with black lettering (entered by Alan Simpson). Fourth place went to a Flex-ware (USA) 'Little Giant' model of a Jaguar XK120 roadster, with no prizes for guessing by that it was submitted by Jaguar collector Michael Driver. Well done to all the prize-winners and thank you to all the other entrants. The prize winners are chosen by the judges on the night, and no doubt different judges would produce a different set of winners. It is good to see the wide range of models submitted by members.
The 'business' of the evening was to don our thinking caps and try to answer 50 general knowledge questions set by John Garside. Most of us soon realised that we are not quite so clever as we think we are, but top scorer was John Harrison (aided by his wife) who was a clear winner with 27 points out of 50. Well done to them.
Click on a thumbnail to enlarge.


---
MSMC 'VENDS' ITS WAY...
All the models on display in the July 2008 competition were 'for sale' - but that didn't mean that you could buy any of them! The theme for the competition was 'Vending Vehicles and Models' which drew an interesting array from members' collections. First prize was awarded to a pedestrian electric 'Dairy Milk' Float by Charbens, complete with milk bottles, crate and milkman, entered by Robert Newson. Bob Westerbeke was among the prizes this time, his Ertl Collectibles 1927 Graham 'True Value' home delivery van being awarded second place. Third place went to Bob Collins for his entry of a Corgi no.471 Smith's Karrier Mobile Canteen, suitably enhanced by hungry Hornby figures. This is perhaps the model we automatically think of when 'Mobile Refreshment Bar' is suggested. The delightfully detailed interior of the van is well illuminated in the picture below. Ron Simmons' model of a Mini Ice Cream Van, with Lyons Maid decals, gained the fourth prize spot, very well done with much moulding and detail, including a rocket on the front of the roof! Other models which added to the interesting display were an early-shape Ford Transit Ice Cream Van, entered by John Ward, and John Garside's delightful diorama model of a Butcher's Shop by Crescent Toys.
The July clubnight was given over to our 'mid-summer nosh' of filled jacket potatoes or curry and rice (or a combination of both) and very nice it was too.
Click on a thumbnail to enlarge.


---
Not for the first time, topless models were seen at the MSMC club meeting in June (some years ago Peter Barnes submitted a diorama of a street scene which also included a view into a studio where a naked female model was being photographed!). The theme for the competition was open-top vehicles and associated items. Strangely enough there were not many open-top double-deck buses on display, although one such did feature amongst the winners. Top of the prize list was a model of a battery operated VW Beetle Cabriolet, with original box, entered by member Keith Latham. Hard on its heels came our prolific points scorer Paul Rowley with his Schuco model of a bonnet-less roadster. Roger Coles typically came up with something special in the way of a Rextoys drop-head Cadillac coupe, with a topless Cicciolina in the back, which was awarded third place. Also among the prizewinners was John Ward's Lledo Bristol Lodekka open-top bus, in pre-production resin. This particular model was never put into production. Congratulations to the winners and thanks to all who entered.
Click on a thumbnail to enlarge.

The topless activities ended there, but it was a very busy night at the June meeting. First of the 'extras' was the presentation of our annual charity donation (see the
Charity page
for details).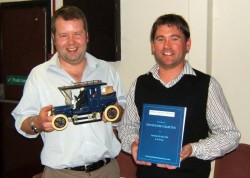 A year or two ago we had a visit from Hugo Marsh, then head of the now-defunct toy department of Christie's auction house. At the June meeting we had a visit from the successors to the Christie's toy operation, Special Auction Services of Midgham, Berkshire. Thomas Plant and Neil Shuttleworth gave us an enlightening talk on the world of toys as seen from the auctioneer's point of view.

---
FRICTION WITHIN THE MSMC?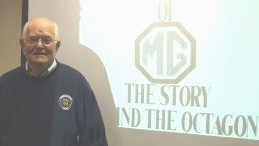 Surely not, we're such a compatible bunch, aren't we? Nevertheless there was 'friction' in the club at the May meeting, for the subject of the competition was friction-powered toys. Before we got round to judging them, we were entertained by former MG employee Brian Moylen (pictured right), who delighted us once again with his reminiscences of the Competitions and Special Tuning Department's activities, in the context of the overall politics within MG, BMC and British Leyland.
The judges took a long time to ponder, but first place in the competition was awarded to Bob Collins for his Tri-ang Minic friction-powered Big Bedford Recovery Truck, with its original box. A composite entry of four Vauxhalls gained second place for John Harrison. These models were once again by Tri-ang, depicting the E-series Vauxhalls. Robert Newson's model of a Fire Escape was awarded third place, made by Elmont, an off-shoot of Timpo Toys. However, the wheeled escape ladder is by Wells-Brimtoy - the Elmont is so rare that even Robert has not yet found an Elmont ladder. Fourth and final prize was awarded to Derek Boxall for his model of an Austin A40 'Farina' produced by Corgi.
Click on a thumbnail to enlarge.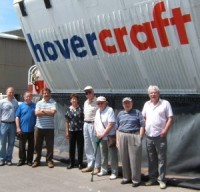 Also in June, several club members enjoyed a most informative visit to the Hovercraft Museum at Lee-on-the-Solent.

---
M.S.M.C. TAKES TO THE AIR!



To commemorate the RAF's 90th anniversary, the subject for the April 2008 competition was RAF-related toys and models. This produced a most impressive array of entries from members. First place was awarded to Alan Howard for his model of a Handley-Page 1918 0-400 twin-engined bi-plane Heavy Bomber. In second place was a pleasing diorama formed by a Timpo Aerodrome with hangar and two Flying Fortress aircraft on the forecourt
(pictured right - click on the thumbnail to enlarge the picture)
. This was displayed by Robert Newson, who told us: "The Aerodrome was made by Timpo Toys, as were the two Flying Fortress planes with it. Timpo only started making toys on the outbreak of war in 1939 when importing became impossible. The Aerodrome was advertised in 1941 and was still available in 1946. It is so crudely made from hardboard and fibreboard that it almost looks home-made. Since metal was not available for toy manufacture, the planes were cast in a composition material made from glue and pumice powder, but known to some collectors as 'dogshit' . There were at least ten different composition planes in the series".
Third place was achieved by a Hart Models kit of a David Brown VIG 1a Taskmaster Tractor Unit with two RAF Type C Mk. III Bomb Trolleys. This was made and submitted by Paul Rowley. Awarded fourth prize was Pat Elphick's Lledo-produced model of a De Havilland Tiger Moth bi-plane in RAF Pilot Training livery, a most eye-catching brightly coloured model, nicely mounted on its plinth.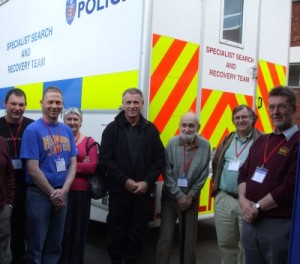 A small group of members had an enjoyable morning at the Thames Valley Police Sulhamstead Training Centre and Museum in late April. We were the hosts of Mr.Ken Wells the Museum Curator and a former forensic scientist. After a welcome coffee, we visited the Search and Recovery Unit, then the Vehicle Maintenance workshop, followed by the Dog Training Unit, then into the museum itself. Pride of place went to the display relating to the Great Train Robbery of 1966, but other poignant displays depicted the two Hungerford shootings and well-publicised cases from the amalgamated constabularies which comprise the Thames Valley force. The museum also contains numerous artefacts such as truncheons, communications equipment, forensic equipment and clothing through the decades. We were asked specifically not to publish photographs of damaged police vehicles!
---
ANNUAL GENERAL MEETING


The March 2008 clubnight was the occasion of the Annual General Meeting. All existing committee members were re-elected unopposed. After the formal business was completed, members tucked into the refreshments provided and then the chairman had the pleasant duty of presenting the annual awards.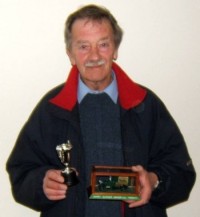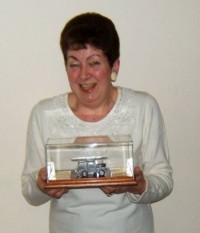 The Harry Gunner Trophy for the winning entry in the 'chop' competition was presented to Derek Boxall (pictured left).
The John Parker Trophy, for the most points awarded for entries into the monthly competitions, was this year awarded to librarian Barbara Simpson (right), keeping the trophy at the same address for a further year.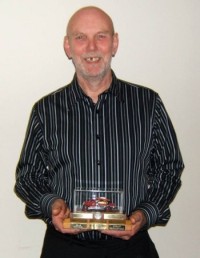 The Tony Gleave Trophy, presented for outstanding contribution to the club, was awarded to former club secretary Peter Carpenter (pictured left).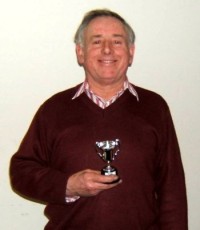 The Participation Award for most entries into the monthly competitions was won by toyfair organiser John Garside (right), and membership secretary Alan Simpson (far right) was awarded the runners-up trophy in this category.
Well done to all those featuring in the prizewinners lists, but remember that success only comes with hard work and planning - its not just a question of turning up on the night to collect the trophies - there is much hard work at home to prepare the entries ready for display.
The Anthony Armstrong Trophy was not awarded this year. This is intended for the member who has contributed most to international friendship and co-operation in the world of toy and model collecting.
---
NOT SO 'LONE' STARS!


The February 2008 club meeting was the occasion of the annual MSMC Chop and Kit competitions. The number of entries was a little bit down on previous years, perhaps Paul Rowley was having a rest after his run of successes and sadly we no longer have John Bennett's contributions. There were only two entries into the 'chop' section and remarkably, without collusion, they were both conversions from Lone Star models. First prize was awarded to Derek Boxall for his box trailer conversion using a Lone Star Austin tractor cab unit, carrying the logo. of 'Woodley Carriers, Berks'. The other entry which was of course awarded second prize was entered by Alan Simpson and was another conversion from a Lone Star tractor unit, this one being a short-wheelbase dumper along the lines of the well-known Dinky Euclid. This model was finished in off-white and black.
The 'kit-built' section of the competition attracted four entries. First prize was awarded to Bill Alexander with a very nicely built and motorised model of a Johnson-designed Midland Railway 'Perseverance' type 4-4-0 tender locomtive, from a Ratio kit. Phil Dyer won second prize with his model of a Fordson crawler tractor. Phil also owns the real thing, as depicted in the picture. Roy Ellison built the Ford Model T and was awarded third place, and regular entrant Barbara Simpson was 'highly commended' with her 'dressing dolls kit' which brought back childhood memories.
Click on a thumbnail to enlarge.

---
FORMER GLORIES - RESTORATION NIGHT AT THE MSMC


The January 2008 club meeting had 'restoration' as the display theme, and once again the commendable expertise of our members was evident in the quality of the entries. Pity the judges who have to make decisions on the merit of such diverse entries.

First place was awarded to Paul Rowley for his restoration of a fire appliance believed to be of USA origin. Paul later pointed out some of the novel uses of odd parts to reproduce original features, such as hose reels, etc. Barbara Simpson gained second place for her restored doll, which she told us had been rescued from a very dirty and almost derelict state. Third place went to Robert Newson for his restored Tootsietoy Graham "Commercial Tire" van. Awarded fourth prize was a restored Dinky Toys Mobile Crane Truck, submitted by John Elphick. Unfortunately we do not seem to have a photograph of this prize-winning model.

Other notable entries were two restored Dinky Toys, a no.158 Riley Saloon, complete with reproduction box, and a no.30p Studebaker Tanker in the livery of 'National Benzole Mixture'. Congratulations to the winners and thanks to all entrants.

Click on a thumbnail to enlarge.
The club toyfair had an astounding start to the New Year, with the January event extremely well supported by both the traders and public alike. The attendance was the largest since our anniversary 100th toyfair in 2004.