Maidenhead Static Model Club
News Archive 2016

DECEMBER 2016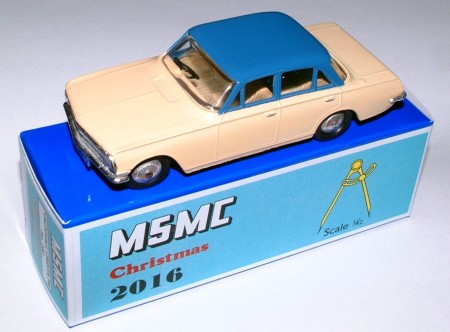 The annual club model for 2016, distributed at our Christmas party, was a Vauxhall Cresta PB, based on the Spot-On model.
See the gallery of all our club models
here
.
---
NOVEMBER 2016
In November we welcomed Graham Bilby who gave a very interesting presentation about trolleybuses. Although originally billed as including trams, I think all who attended would agree that trolleybuses did indeed deserve an evening to themselves. With a good selection of slides, Graham showed the progression of design from the earliest styles, through to the end of trolleybuses in the UK in 1972, and included some foreign vehicles as well as British ones. Outside the UK trolleybuses continue to operate in several locations. Bradford was at the forefront of British systems, having opened the first in 1911, operating the first double-decker ten years later, and being the last system in the UK to close. Several vehicles featured were preserved examples from the Trolleybus Museum at Sandtoft near Doncaster, with which Graham has a personal involvement. We hope to welcome Graham back to a future clubnight to talk about trams.

The competition, which was open to both trolleybus and tram models, created a colourful display. In fourth place was Roger Coles' Russian double-decker trolleybus. Third was Hilary Gatward's collection of three Brimtoy trolleybuses in a range of sizes. In second place was Michael Driver's red and blue Joustra trolleybus, with first prize going to Robert Newson for a very unusual 1930s lead Copenhagen tram set by Micro which even the speaker had never seen.

Click on a thumbnail to enlarge.
---


OCTOBER 2016
October clubnight was Scalextric night, together with a mini-swapmeet. Winner of the Scalextric knock-out was none other than our Chairman, John Ward. Thanks go to Kevin Bailey for keeping the records.
The competition for October was Plastic Racing Cars and this produced quite a high number of entries. First prize went to John Garside for a comprehensive display of Penguin rubber-band-powered racing cars made by International Model Aircraft Ltd. (part of Lines Bros.) in Merton, London SW19. Second was a large Californian Model Works Porsche with a plastic copy of the Matchbox Bugatti, entered by Roger Coles. Third was Michael Driver's Laurie Toys Ferrari on a trailer towed by a Jaguar Mk 10. It's interesting that the driver of the Jaguar feels the need to wear a crash helmet... In fourth place was Brian Gatward's Matchbox Volvo 850T SCX.
Other competition entries in October included a selection made by Spot-on and International Model Aircraft under licence from Transogram; a pair of 'The Winner' racing cars by Toy Products Ltd of Walsall; a collection of four-wheel drive slot cars by MRRC; a selection of French models by Minialuxe, Danone and Clé; and a Marx model of a Ferguson racing car.
Click on a thumbnail to enlarge.
---


SEPTEMBER 2016
Unfortunately the speaker for our September clubnight was unable to attend, so we ended up with a 'social' evening which was still enjoyable. The competition on the theme of 'Aston Martin and Spy-related Cars' produced a very interesting range on display, with some thought having gone into many of the entries.

First prize went to David Arnold for a second-hand car sales lot of ex-007 cars with some witty descriptions. Second was the biggest model on the table, Gary Maslin's kit-built Aston Martin DB5. In third place was a display of Corgi 007 models, inspired by the 60th anniversary of Corgi Toys and comprising a model for each of the six decades since the first James Bond car. This was entered by Adrian Levano. In fourth place was John Garside's selection of Maxwell Lotus Esprits made in India, complete with boxes and still in the original plastic bags. The selection of colours contrasts with the single colour of the Corgi Juniors model from which the Maxwells were copied.

Among the other entries were Robert Newson's models of the Aston Martin Series III of 1934-6 by MAFWO (Mears & Freeman Woodware), an Aston Martin sculpted in soap, and a selection of Jaguar XKR Cabriolets as featured in
Die Another Day
in a range of scales.
Click on a thumbnail to enlarge.
---


AUGUST 2016
August clubnight was our Fish and Chip Supper, so without a speaker or presentation it was a very social evening with discussions about various items members had brought with them. A few 'deals' also seem to have taken place.

The competition 'Food on Wheels' gave a wide scope, with entries ranging from some quite rare models to amusing items like an egg cup in the form of a cart being pushed by a chicken. First prize went to Brian Gatward's Chad Valley tinplate snack bar 'Mac's Snacks'. This model was originally described by the manufacturers as a 'Buffet Car'. In second place was Mike Forbes' Tekno Ford D Series articulated truck in the livery of 'Frisko is'. This has well-detailed refrigeration equipment rather than the more common plain box attached to a standard box body. Having said that, this looks a bit vulnerable to damage both in real and model form!

Third was Roger Coles' Dinky Albion Milk Marketing Board tanker, one of the Dinkies Dinky never made, and fourth place went to Geoff Holden for a clever kitchen improvisation – the Chevy Courgette, complete with Chevrolet badge. We hope this was recycled as part of dinner the following evening as two courgettes went into the manufacture of this model!

Click on a thumbnail to enlarge.
---


JULY 2016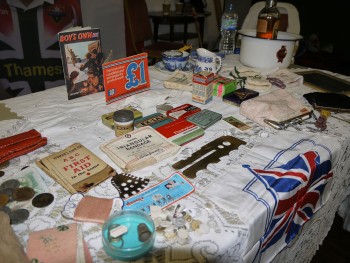 July saw the return of Deborah from Milestones Museum in Basingstoke with 'More Amusing Tales from the Museum'. Milestones, which is situated close to the old Thornycroft factory, is focused around two 'streets', one on a Victorian theme, the other post-Second World War. As well as hearing about the reactions of visitors, especially the children, we heard about some of the out-reach activities of the museum including craft classes and visits to clubs and societies. There were also stories about mysterious goings-on at Milestones, some possibly due to hauntings.
The competition was 'Models made in or relating to Hampshire', and was judged by Deborah and Sarah, our visitors from Milestones. The first prize went to Robert Newson for a very unusual saloon car by Phillip Segal Toys. A reproduction of their catalogue described them as makers of 'Hollow Cast Metal Toys' - most of which were figures and animals. The catalogue showed two motor vehicles, the saloon car (no.41) as well as a racing car (no.42), and gave the company address as Christchurch, Hants.
Second prize went to a Dinky Mighty Antar tank transporter set belonging to Roger Coles. In third place was a smaller version of the tank transporter from the Sentry Box range entered by Hilary Gatward. Fourth place went to Adrian Levano for a Corgi Classics set featuring Hampshire Police vehicles – a Bedford S Control Unit van and a Morris 1000 van.
Click on a thumbnail to enlarge.
---


JUNE 2016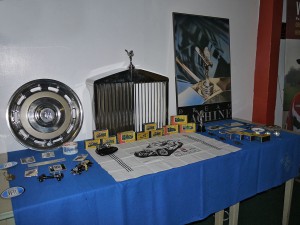 In June Kevin Bailey gave a very well illustrated and informative presentation on the history of Rolls-Royce, from the earliest activities of the founders (and their very different backgrounds) through the various models produced over the decades; that included the wartime applications, especially the armoured cars including those used by T.E. Lawrence (Lawrence of Arabia). Kevin suggested that these military vehicles could easily provide sufficient interest for a future talk, so we look forward to hearing that at some time in the future. Among items on display was the radiator grille from Kevin's 'spare' Silver Shadow. One of the photos in his presentation was of a whole scrapyard of similar vehicles.
We were also pleased to welcome Ann Evans and photographer Rob Tysall who are planning an article about the club for
Diecast Collector
and/or
Collectors Gazette
. Our guests kindly agreed to judge the competition which was on the theme 'Silver Coloured Toys', with first prize going to Gary Maslin for his 'Streamline Car'. This is by Mettoy in the 'Castoys' series. Normal versions are cream, red or green with a red interior, however other colour versions do exist – the chrome plated model being one of the rare variations. The catalogue number is 810 and it was in production only for a short period (1948-50). All cars carry the number plate MTY 810.
Second prize went to Adrian Levano for a display of Märklin models, all reissues of earlier items but produced for three different markets. Third was won by a pair of autographed Stirling Moss Mercedes-Benz racing cars belonging to David Arnold. Fourth was Phil Dyer's silver White 4-210 tractor in 1:32 scale made by Ertl for the 2013 National Farm Toy Show.
Click on a thumbnail to enlarge.
---


MAY 2016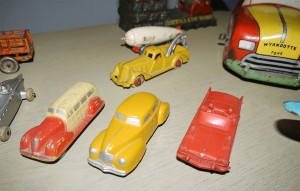 At the May clubnight, Jim Lindsay gave a very interesting talk on the differences in production processes of toys on the other side of the Atlantic Ocean compared with those in Europe. During the 1920s and '30s, many American cast iron toys were produced by general foundries, with some of the 'top end' items being quite large and incorporating moving parts. During the depression smaller cast iron items were popular as they were more affordable. Some production of older style cast iron toys continues as nostalgia items for collectors.
Slush casting was another process most commonly used in the USA, but with the lack of makers' marks in most cases, identification can be tricky. Rubber toys also enjoyed a fairly brief popularity, being sold as 'furniture friendly' but although there was some production after the Second Word War, this was soon replaced as a material by soft plastics.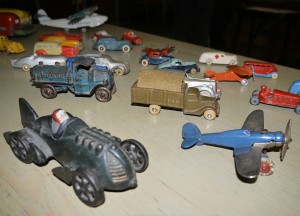 Another material more common in US production is pressed steel, with the bigger toys (referred to as 'yard toys') sometimes having a thickness of metal equivalent to that of real cars. Jim had a wide selection of items from his own collection on show, some of which are shown in these photos.
The competition was on the theme '50s/60s American Cars' with first prize going to John Garside for a selection of Israeli-made Sabra/Cragstan/GamdaKoor models. Second was Robert Newson's display of Lone Star Roadmasters with publicity material describing them as 'The Big Strong Cars... for Collectors'. All the models pictured were American vehicles with the exception of the Rolls-Royce and a Citroen DS. This range was marketed by Tootsietoy in the USA, so both first and second prize winners were models made for export to the American market. Third was a scrapyard of Tootsietoys (and others) from Roger Coles, with fourth place going to a Prince tribute from Adrian Levano featuring the single sleeve and 'Little Red Corvettes' from the Matchbox-Dinky range and Schuco Piccolo.
Click on a thumbnail to enlarge.
---


APRIL 2016
In April Geoff Holden followed up his previous talk on speed record models with a presentation about the real things. We learned that France was the location for the first speed record attempts with the earliest being set by electric cars. The 75 mph barrier was then first broken by a steam car which apparently still runs! In 1904 the first car to achieve 100 mph was powered by petrol, and Geoff continued to chart the progress of higher and higher speeds being attained and the famous cars that were involved. The current record of 763 mph is held by Andy Green driving the Thrust SSC in 1997, although there are various projects which aim to exceed this speed. The problems of exceeding the speed of sound were also explained. Despite some heckling from the 'noisy' exhibits on the competition table, Geoff then told us about water speed records including the high fatality rate of those attempting ever higher speeds.
The competition was 'Noisy Toys' and was not limited to wheeled vehicles, as the opera-singing duck demonstrated. The winners of the competition were as follows: first was Hilary Gatward for the tin drummer boy and second Brian Gatward for his pile of drums (is there a family trend emerging here?). Third was Clive Gehle for his Playmate 'Sturdytoy' Puffing Billy, and fourth George Bennett for the Dodge Charger 'General Lee' from the TV series
Dukes of Hazzard
.
Click on a thumbnail to enlarge.
---


MARCH 2016
March was the club's Annual General Meeting, and the chop, kit and restoration competition was held on the same evening. The winning kit was an Airfix plastic internal combustion engine, and the restoration prize went to a Northern Tynesider/Wearsider Routemaster Bus. Both were entered by John Bennett. The chop competition was won by Paul Rowley with a crane representing a vehicle operated by the Uplifting Crane Co. Powered by a Scammell Crusader, with four-axle steering and lift rated at 60 tons, this would have been quite a serious piece of equipment.
The annual trophies were awarded as follows:
- The Harry Gunner Trophy, awarded to the winner of the chop competition, went to Paul Rowley.
- The John Parker Trophy, awarded for the most points collected in clubnight competitions, was won by Geoff Holden.
- The Dave Robinson Trophy (formerly the participation cup) went to Roger Coles for taking part in the most competitions over the year but unfortunately not being within the prizewinners.
- The Tony Gleave Trophy, awarded for exceptional club effort over the past year went to Adrian Levano, for editing the club magazine
Wheel Bearings
.
Click on a thumbnail to enlarge.
---


FEBRUARY 2016
In February we welcomed back Tim Morris of Brooklands, who gave us another interesting and well-illustrated talk, entitled 'Fast Women, Fast Track'. This was about the pioneering women of motoring and motor sport and their connections to the Brooklands circuit. After an opening display of (hopefully tongue-in-cheek) cartoons about female stereotypes associated with motoring, we heard about Bertha Benz who seems to have been the marketing brains behind her husband Carl, making an enterprising drive with one of the earliest cars in the world. We then learned about some early female drivers and their exploits, both on and off the track, often against the odds of bans on their participation. Prominent among those was Ethel Locke King, wife of Hugh, the force behind the world's first motor racing circuit. What seemed clear was that the spirit which drove them often led to success in other fields – and in many cases very long lives (accidents excepted). There was also the incident of the 'Society Ladies' Race' at Brooklands which appears to have been a publicity stunt arranged by Barbara Cartland; with some of the 'ladies' not being quite as pure as they would have liked to have been thought...

The competition 'Tins with a Transport Theme' produced an interesting display of many different sized items. The winner was a display of biscuit and toffee tins (and a spark plug tin) featuring Sir Henry Seagrave's Golden Arrow, entered by Geoff Holden. Second was Gary Maslin's van for M Méert Confectioners and Chocolatiers of Lille. This is not as old as the style and typography would suggest, the giveaway being the phone number with an international dialing code printed on the rear! In third place was Hilary Gatward's McVitie's Jaffa Cakes Express, with the (very large) Cookie Train belonging to Philip Turland fourth.



Click on a thumbnail to enlarge.

---


JANUARY 2016
At the January clubnight there was a lot of sharing of expertise as a good selection of our unmarked and unknown models were examined. The competition was on the same theme, and the winning entry was an unidentified model of an underground train, assumed to be a London tube train, of which it seems even the London Transport Museum are unaware. This belongs to Clive Gehle. In second place was a Clockwork TWA plane belonging to Brian Gatward, probably American. Third were a pair of Bedford O Series trucks, similar in style to the Dinky model, which even their owner Robert Newson cannot identify. Fourth prize went to Mike Samuel for a mechanical shovel which Robert Newson identified as being by B.C.M. Co. (Derby) Ltd. They mostly made diecast toy guns.
Click on a thumbnail to enlarge.

Among other exhibits, Geoff Holden had several unknown record cars (pictured below). Since the clubnight, there seems to be a consensus that the wooden model is probably by Schowanek, who were making wooden toys in the German-speaking part of Czechoslovakia before the Second World War. Later, following nationalisation of the factory, they were re-established in Austria, then Bavaria. The 1:43 Jaguar shown here belongs to Ian Cook, and turns out to be made up from a Revell kit. Judging by the notes on the paper, Clive Gehle seems to have gleaned quite a few details about his selection of unknown models.
Click on a thumbnail to enlarge.