Maidenhead Static Model Club
News Archive 2014

DECEMBER 2014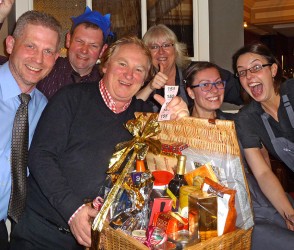 The annual Christmas Social took place at the Toby Carvery in Old Windsor.
The raffle, as ever, was a popular feature of the evening – all profits going to the club's charity fund. The star prize of the hamper was won by Andrew Kilmartin.
The photo on the right shows Andrew collecting his prize, together with John Ward, Phil Turland and three of the gallant serving staff who did a wonderful job!
After the meal, members were able to collect the annual club model, which this year is an Armstrong Siddeley Sapphire based on the 1960s Spot-On model (pictured in our
club model gallery
).
---
NOVEMBER 2014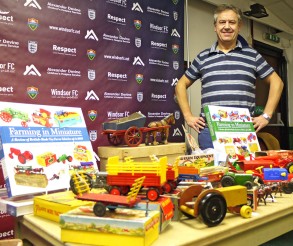 At the November clubnight Adrian Little gave us an insight into the work that went into the production of the two-volume book
Farming in Miniature
of which he is co-author. His impressive display of British-made farm models included many of the 70 UK manufacturers who have offered farm models in their ranges. The first farm toy vehicle in the UK was from Britains in the 1920s with their lead tumbrel – an item which continued in the range with variations for over 50 years.
Adrian gave us an idea of the problems of producing the definitive story, especially given the number of small makers which emerged in the immediate post-war period, some only surviving for a short time, and about many of which very few hard facts seem to exist.
Ever the salesman, Adrian pointed out that the items in his display were also for sale, and several members took advantage of the opportunity to buy!
The competition attracted a good entry, with first prize going to Robert Newson's Kansas Toys from the USA. Second was a group of Timpo boxed sets from John Garside. Third were two diecast Mettoy tractors from Neil Baldry, and fourth was the Animate tractor belonging to Brian Gatward.
Click on a thumbnail to enlarge.


---
OCTOBER 2014
The October clubnight was a bit of a break from the usual routine – it was a trading tables event that attracted many interesting offerings, but also seemed to provide a more relaxed atmosphere to discuss items than at public events.

The competition was 'Military Toys', and first prize went to Graham Bridges for his Arnold Jeep. Second was Michael Driver's South African combat vehicle. Third was the display of Sentry Box, River Series and Brimtoy models by Hilary Gatward, and fourth prize went to Bob Collins for his 'Berthing Plan' and ship models.

Click on a thumbnail to enlarge.


---
SEPTEMBER 2014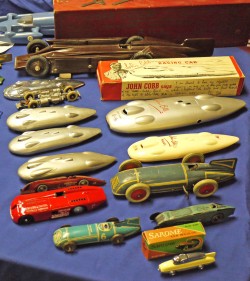 The September clubnight was a 'speed-fest' with Geoff Holden. With a display of models of record-breaking vehicles ranging from Kellogg's cereal packet give-aways to the large-scale model of the Golden Arrow made by the makers of the original bodywork, we saw the interest generated (in the earlier years at least) by those who strove to go ever faster – despite the risks to life and limb! Even today the pursuit of speed seems to be an obsession of media programmes such as Top Gear, however irrelevant it may be to the realities of everyday motoring. Models displayed ranged from conventional diecasts, tinplate and plastics to Bakelite and even fold-out tin items given away with comics. Geoff is a specialist in speed record models and memorabilia, and offers interesting items for sale on eBay under his seller name 'quest4 speed'.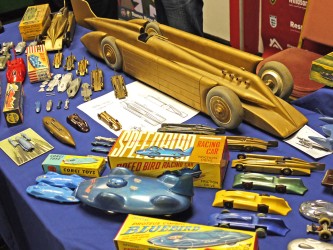 The competition followed the theme of the presentation, and first prize went to a display of CIJs from John Garside. Second was Gary Maslin's Bakelite Golden Arrow from the A.G.L. Ranlite Series. Third prize went to Michael Driver for a Dinky 23m Thunderbolt Racing Car in its box, and a trade box for 23s/222 Streamlined Racing Car with a selection of the models in various colours. Fourth was a model of the gas-powered Blue Flame belonging to Roger Coles.
Click on a thumbnail to enlarge.

---
AUGUST 2014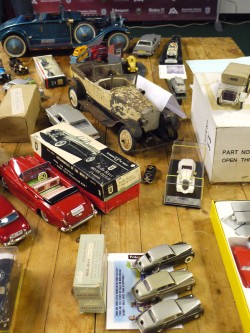 The August clubnight was an eye-opener for the huge variety of Rolls-Royce models. Kevin Bailey showed slides of a wide selection from his personal collection, and added in some information about the real cars and the company that made them. In addition his own 'Roller' was parked outside, and he also displayed some of his collection including improved items.
The competition was, obviously, on a similar theme, and produced the fullest competition table seen for some time. First prize went to Robert Newson for his 10" blue plastic model which has 'Made in England' and 'A Betal Product' stamped into the tinplate base. The box just has 'King of the Road' on a paper label. 'Betal' was the brand name of J.& H.Glasman Ltd. of Plaistow, East London, whose slogan was 'Betal Productions – Always the winner'. The Rolls-Royce was first issued with a diecast body – both the diecast and plastic models had the same tinplate base and wheels. Both versions are very rare, and they probably date from 1950-1.
Second prize went to Alan Howard's red Yonezawa tinplate model from Japan. Third prize went to Ian Cook for a 'barn find' 1930 Rolls-Royce Double Phaeton by J.E.P. (Jouets en Paris), France – described as 'For Restoration'! Fourth prize was for an impressive 1:8 hand-made item belonging to Paul Rowley.
Click on a thumbnail to enlarge.

---
JULY 2014
At the July clubnight we all enjoyed the annual fish and chip supper – despite it being one of the warmest nights of the year so far! The competition was 'Toys and Models from Latin America' and clearly stretched the brain cells or collections of our members as the number of entries was somewhat below average. However, all the models displayed were interesting and unusual.

First prize was for Brian Gatward's Chico Volvo trucks. Second prize went to Michael Driver for a hand-made copper dump truck – a souvenir from a copper mine. Third prize went to Bob Westerbeke for a Buby 1973 Ford Falcon complete with original box. Fourth prize went to Allan Feldman for a selection of Solido Mercedes-Benz C111s, of which one was made in Brazil (front right in the picture).

Click on a thumbnail to enlarge.


---
JUNE 2014
At the June clubnight, Tim Morris of the
Brooklands Museum Trust
gave us a fascinating and very well illustrated insight into the history of the Brooklands site. We use the term 'site' because if we think of Brooklands just in terms of motor racing, we miss a large proportion of its history, even though it was the first custom-built racing circuit in the world. At the time of the track's conception, British motoring enthusiasts were frustrated by the 20mph speed limit, so the circuit planned by Hugh and Ethel Locke King offered the chance to push cars to their limit away from the public roads. During 1906-7 some 2000 navvies poured around 200,000 tons of concrete to create the structure, some of which can still be seen to this day. The etiquette of motor racing was initially derived from that of horse racing, with early drivers wearing coloured silks, and bets being taken on the races.
But it was the use of Brooklands during the pioneering days of aviation that led to the aircraft factories during the first world war, the use by flying clubs during the inter-war period and the site's importance in aircraft design and construction during the second world war. Some 3000 Wellington bombers were built there, along with Hurricanes, and Barnes-Wallace developed the bouncing bomb at Brooklands. Due to wartime buildings and breaks in the track, use for racing was no longer possible, and after the war the site was taken over by Vickers, producing civil aircraft including the VC10 and Concorde. In total over a period of 80 years some 18,600 aircraft were built, of around 260 types.
With the closure of Vickers, the site has now been developed for business and leisure use, and Mercedes-Benz World occupies a large area including parts of the original track. However the Brooklands Museum maintains many of the historic buildings, and has collections ranging from pedal bicycles through to full-size aircraft via historic cars. The Chobham Bus Museum also now resides at Brooklands. The Brooklands Trust has great plans for the future, and currently hosts a wide variety of motoring events – even offering itself as a wedding venue!
The competition was on the theme of Brooklands, and first prize went to Robert Newson for a pair of Scamold racing cars (including an original box) made at Brooklands by Scale Models Ltd. from 1938 to 1948. Second prize went to Michael Driver for a collection of three Dinky Racers (35b/200) produced from 1936-1957 and based on an MG R Type which raced at Brooklands in the 1930s. Third place went to a Vickers Viscount from TIm Morris in early BEA livery, and fourth to Bob Collins for a pair of Dinky Auto-Union Racing Cars complete with an original trade box.
Click on a thumbnail to enlarge.


---
MAY 2014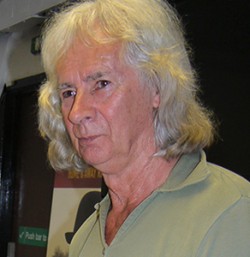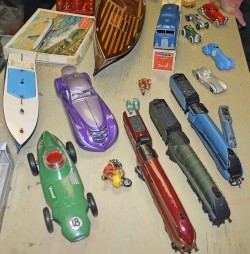 Like a magician pulling white rabbits from a top hat, at our May clubnight Neil Baldry (pictured left) presented us with a table-full of items on the theme of streamlined models. The gradual increase in interest in the style started in the earliest years of the 20th century. As with so many innovations, the original aim of improving the performance of racing cars (initially by improving on the flat-fronted radiator) gradually crossed over to production cars - and even buses and trucks, not to mention trains and planes.
The competition was on the same theme, and first prize was taken by Brian Gatward with his 'by appointment' Chad Valley tinplate 'Merlin' locomotive complete with original box. Second prize went to Michael Driver's three trains by Dinky, Crescent and Tootsietoy. Third prize went to Robert Newson's display of Chrysler and DeSoto Airflows.
The innovative Airflow was one of the first mass-production streamlined cars. With its unitary construction, it was the forerunner of the modern motor car, and its dramatic new styling made it a popular subject for contemporary toy manufacturers. The models in the display are as follows (clockwise from bottom left in the third photograph below).
Bottom left - Diecast lead Matchbox-size model by Tip-Top Toy.
Middle left - slush-cast lead model by CAW (Charles A.Wood).
Top left - unknown slush-cast lead model which seems to be based on the Dinky Toy. Rather crudely made with closed wheel arches, but still with quite good detail. The wheels were rubber tap washers!
Top right - this slush-cast lead model is the odd man out, as the other toys here are all American. The mould was made by Metal Cast Products of New York, but the toy was made by Fun Ho! of New Zealand. Not many people know that Fun Ho! made lead toys in the 1930s from American moulds before introducing their aluminium models after the war.
Middle right - slush-cast lead Airflow by Kansas Toy & Novelty Co.
Bottom right - the relatively common Tootsietoy zinc diecast model from 1935.
Fourth place in the competition went to a Wells-Brimtoy 'Golden Streak' railcar belonging to Roy Ellison.
Click on a thumbnail to enlarge.
---
APRIL 2014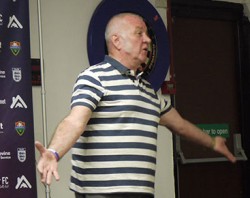 April's clubnight featured a fascinating 'bygones' quiz presented by Terry Ridgley (pictured left). Identifying the origin of, or original use for a selection of artifacts certainly stretched the grey matter of the assembled club members! We all learned something from the objects, most of which Terry apparently unearthed himself.


Mike Samuel was belatedly presented with the Participation Award trophy by chairman John Ward (pictured right).

The subject of the competition was toys and models from the USA, and an excellent selection was on display, some of which can be seen in the photos here. First prize went to Robert Newson for a display of models produced from moulds made by Metal Cast Products Co., who supplied moulds for home casting or 'cottage industry' casters during the depression years. Second prize went to Bob Collins for a very unusual Louis Marx tinplate bridge, complete with traffic. Third was a 1930s blue Airflow car by Kingsbury of Keene, New Hampshire, belonging to Colin Bull. Fourth was a group of Manoil Happy Farm figures from John Garside.

Click on a thumbnail to enlarge.